Ringside Report's Fight Report of Recent Results and Upcoming Bouts Around The World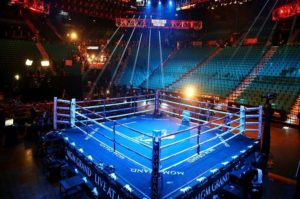 By Donald "Braveheart" Stewart
As easy as 1, 2, 3 or A, B, C here we have what happened, what is about to happen and what is due to happen in the boxing world from the perspective of a fan with a laptop, in the heart of Scotland. Three fights, all being talked about and talked up and not all for obvious reasons.
Flash Back – Ringside Report's Rear View Mirror – one fight from the week past from a Scottish angle (Look it up on a map…)
UK – biggest and most notable – what should be the biggest news in the UK boxing scene.
Saturday 4th March
In Newcastle, England super lightweight Lewis Ritson L Ohara Davies KO9.
Lewis Ritson came back home but found his body could not stand up to the punishment from the former enfant terrible of British boxing, Ohara Davies.
Ritson began well enough and jabbed as he can, until Ohara Davies began to break down Ritson. The loveable Geordie fighter, Ritson, was managing to stay in the contest but it was becoming clearer as the fight went on that Davies, was indeed a new man.
He was the guy who had the devastating power in his right but took Ritson down with a body shot from his left.
He was the guy who trash talked and got under your skin to become the guy who did not celebrate when you were getting oxygen in the ring.
He was the guy who dreamed of a world title and then blew it, and now he is on the brink of … a world title shot…
Davies is now the mandatory challenger for the winner of the WBA super lightweight title defense that will see champion Alberto Puello defend against Rolando Romero.
My View
This was billed as a crossroads fight and these were two fighters who have been up in the clouds with expectations but are now firmly with feet on the ground with what they want to achieve.
Davies needed a personality transplant, and he got one. He just started to be himself as opposed to the pantomime villain who made news. He was cultured and he was good. He was without doubt the better fighter going into this but he had yet to truly prove that. He now has a world title fight to look forward to – barring any stupid rematch clauses of course.
Ritson is an honest pro. Afterwards he talked of perhaps not being world level, but he is a very decent pro. He could, with a few decent fights, get into the mix for one of the belts. Whatever he does his rise to the top and his journey have been fantastic to witness.
This is what boxing really needs in the shadow of drug nonsense – two honest guys putting it on the line and walking away intact and with dignity, filled with respect for themselves and their opponent. It is a fantastic night to look back upon.
Fast Forward – the week to come as viewed from one side of the Atlantic
UK – biggest and most notable – what should be the biggest news in the UK boxing scene.
Saturday 11th March
In Paris for the EBU light heavyweight belt, Brit and British champion Dan Azeez goes across the channel to face Thomas Faure.
The durable and highly impressive Commonwealth and British champion at light heavyweight, Dan Azeez travels to the outskirts of Paris to get the job done and become the "king of Europe."
His opponent, Thomas Faure has never fought outside of France, won the belt over a year ago against another Frenchman and may be a durable guy, but his experience appears to be limited.
Having said that, on paper, so is Azeez.
It is, however, unlikely that Azeez who is trained by Buddy McGirt would be taking this if they were not confident that this is just another step along the way to a world title.
My View
The prevailing view appears to be that Azeez shall start slow and pick off Faure. So, if Faure wants to win, he may need to be the first to catch Azeez early. Whilst Faure is an unknown quantity, Azeez has won each regional and national title in sequence, has added the Commonwealth belt to his collection and the European belt makes a decent next step. He has done this without fanfare and without too much of the type of promotion which his rise deserves.
Azeez is a different kind of fighter. He does not exist on confidence and alongside his gym buddy, Callum Smith, has an impressive team behind and alongside him. This is a very tasty fight.
I think Azeez wins this with a mid-round stoppage and then his name will get better noticed in the one arena he has still to visit – the United States.
Future History – and the week to follow…
UK – biggest and most notable – what should be the biggest news in the UK boxing scene
Saturday the 18th of March 2023
In Newcastle, the WBA continental title at super bantamweight shall see Hopey Price face Thomas Masson.
Click Here to Order Boxing Interviews Of A Lifetime By "Bad" Brad Berkwitt