Ringside Report Looks Back at World Champion Derrick "Smoke" Gainer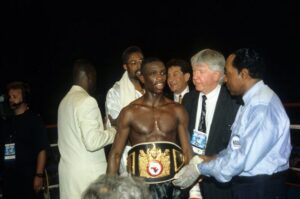 By Donald "Braveheart" Stewart
Crossing over from one Millennium to another may allow you to stake claims for either side – better in the last one or better in the new one and whether you mature or decline in the second your legacy can often be defined by it. Derrick "Smoke" Gainer, 43-7-1, 25 KOs, matured.
Holding the WBA featherweight title from 2000 to 2003, his rise in the professional ring began in his debut 10 years earlier, from 1990, though the next 9 years, until his retirement saw his decline. It is, however, not a decline that should be mourned or felt to have been inevitable, Gainer was still a contender throughout.
This is not just because of his dedication to the sport but also because of what he did outside of it. In 1999 he started a charter high school for at risk kids, named it after his late grandmother, Dr. Ruby J Gainer and also started Fit Nation to tackle childhood obesity.
The school was founded and dedicated BEFORE he became world champion, showing just how much of a dedicated public servant Gainer is. That world title came in 2000, when he beat Freddie Norwood to take the title. He lost it to Juan Manuel Marquez via a technical stoppage in 2003.
But before we got to the world championship, he debuted in Pensacola, when he stopped Andrez Francisco Pascual in the first round on the 14th of July 1990.
From there his rise to the first world title shot included coming up against some names we recognize readily just now – on the 18th of November 1994, he lost to Roberto Garcia at the MGM Grand, Las Vegas in a tight points decision. On the 24th of June 1995 he picked up his first belt back in Pensacola when he beat Harold Warren on points for the NABF featherweight title and then successfully defended it on the 30th of September the same year, when he knocked out Roberto Villareal in the 5th round.
Following year, 1996, on the 15th of June in Jacksonville, Smoke faced Kevin Kelley, for the WBU featherweight titles – his first world champion fight. The veteran Kelley stopped him in the 8th round, after they each ended up on the canvass – Kelley once to Grainer's four times.
By October he was in New York, at MSG where he took the WBC Continental Americas title when he knocked out Patrick Simeon by knocking him out in the 2nd round. If anything Gainer was gaining a reputation for being a crowd pleaser! His fights always seemed to bring drama.
1997 saw him win and retain the NABU super featherweight title with a 12th round stoppage of Alric Johnson in Atlantic City on the 21st of March and then a 9th round stoppage of Manuel Medina in Mashantucket on the 7th of August. The IBF USBA title came his way on the 9th of January 1999 when, in Pensacola, he won on points against Harold Warren.
It led to another world title fight, in 200, when he faced Diego Corrales at the MGM Grand, Las Vegas for the IBA and INBF titles at super featherweight. Corrales stopped Gainer in the 3rd round and got his 31st unbeaten fight under his belt.
But third time was to be a charm. On the 9th of September 2000, in New Orleans, he stopped Freddy Norwood in the 11th round to take the WBA featherweight title. He went on to defend it with a split decision win against Victor Polo in Tampa in early 2001, then came a 2002 draw with Daniel Seda with the belt on the line but Gainer got cut caused by a head butt. In 2003, he took on Oscar Leon at the MGM, Las Vegas but this time, instead of losing at the venue as he had before, he won another split decision win to keep the title.
Then came that fight with the legendary Juan Manuel Marquez, in Grand Rapids where he was stopped in the 7th round, on the 1st of November. A year later, in an interview with Jeff Pamungkas of fight news, he spoke of why he lost his title: "… I didn't perform. I let my body down… Well, you know I'm a counter puncher and Marquez is a counter puncher, too. So, it makes a lot difficult if he's a counter puncher and I'm a counter puncher, too. He (Marquez) is one of the tough guys in the division."
But his world title ambitions were still there, and he travelled to Jakarta on the 22nd of April 2005 to face Chris John for his old title. It was a convincing loss on points. He had changed his trainer and hired Buddy McGirt, swapping out Alton Merkerson to prepare for his challenge however, it as not a successful swap.
Though he was asked about whether he would retire if he lost, he certainly didn't. in 2006, he won the IBA Americas title, and his last fight was supposed to be Carlos Navarro on the Roy Jones- Anthony Hanshaw undercard, when he got a victory by split decision on the 14th of July in Biloxi, Mississippi. A very good friend of the legendary Roy Jones Jr., he made many appearances on Jones's undercard, in a relationship that endured throughout his career and afterwards. Then in 2010 he beat Angel Hernandez in Pittsburgh before, in 2012 he beat debutant Antonio Santos in Pensacola – back where it all started.
Click Here to Order Boxing Interviews Of A Lifetime By "Bad" Brad Berkwitt