Ringside Report Reviews Peacock Original Poker Face – Entertainment News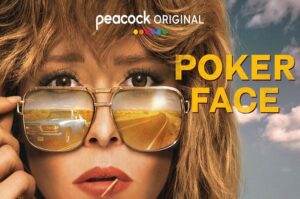 By Janet Grace
Natasha Lyonne, with her quick to entice "New Yawk" drawl has been my MOST favorite actress ever since I caught her playing the brilliantly charismatic, sarcastically captivating, drug addicted inmate on a once upon a time hit show called "Orange Is The New Black".
Her popular Netflix Series, "Russian Doll", in which she played a similar character experiencing a "Groundhog Day" of events left me wanting more.
My wish was granted with her latest endeavor, "Poker Face", where she plays the same two previous characters, this time, on the run from the lawless as well the law, had me binge watching while my apartment was under reconstruction, which left me wondering if Natasha's fabulous, albeit a one trick pony character, would also be experiencing a reconstruction of sorts, I mean, besides this new "Chaste Charlie", who unlike the sexually liberated "Nikki", often found under a church pew engaging in a plethora of indiscriminate acts of pleasure upon others, would never be caught so much as kissing a co-star, except for one veiled episode.
Poker Face, recently given the thumbs up for a subsequent second season, shall be returning to the screen with the ever endearing "Charlie", solving murders a la Colombo's Peter Falk – always present when you least expect it with questions which are quick to enrage the guilty.
Her super power, knowing when a person is lying, gets her in hot water every time, but her good hearted moral compass, has her jump in with both feet despite that fact, to right any and all injustices caused.
Natasha's character seems to be keeping and growing her audience. She makes Jessica Jones look like a drunk despot and Super Girl, an uptight has-been. Quoting "Goldilocks", "this one is just right!."
This super hero will fight for you and won't always win, at first, but like the EveReady Bunny, she just keeps going and going and going.
I enjoyed watching every episode. Each one features a well known guest artist. The writing; for the most part, is interesting enough to continue viewing and Natasha's je ne sais quoi method of acting saves every episode.
If you like sarcastic crime/ comedy-drama, you will enjoy this too.
IMDb gave it an 8/10.
Rotten Tomatoes gave it a 99%.
The audience gave it an 80%.
I gave it an 8.5 because some of the episodes were pretty lame; nonetheless, I enjoyed it overall.
Creator: Rian Johnson
Writers: Wyatt Cain
Directors: Rian Johnson
Executive Producers: Rian Johnson, Nora and Lilla Zuckerman, Ram Bergman, Iain B. McDonald, Natasha Lyonne.
Cast: Natasha Lyonne and Guest Stars: S. Epatha Merkerson, Benjamin Bratt, Simon Helberg, Adrien Brody, Pedro Hollywood, Hong Chau, Ellen Barkin, Nick Nolte, Joseph Gordon-Levitt, Chloë Sevigny, Judith Light, Ron Perlman, Tim Blake Nelson, Lil Rel Howery, Cherry Jones, Nicholas Cerillo, Danielle McDonald, David Castañeda, Charles Melton.
FYI: S. Epatha Merkerson's name was left out of the IMDb cast; however, you can see her on episode 5, alongside Judith Light.
Get your act together, IMDb! She's one of our founding mothers.
Click Here to Order Boxing Interviews Of A Lifetime By "Bad" Brad Berkwitt