Doctor Curmudgeon® A Tale of a War Hero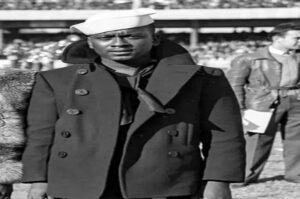 By Diane Batshaw Eisman, M.D. FAAP Doctor Eisman is in Family Practice in Aventura, Florida with her partner, Dr. Eugene Eisman, an internist/cardiologist
Weekend mornings are a special time in the Curmudgeon household. We can savor a leisurely breakfast, hold actual conversations and slowly enjoy our family time.
This morning, we were fortunate to have some of the Curmudgeon children with us. Galahad, the Siberian Husky, who keeps the house running smoothly, had our nephew Sebastian (part Husky and part Samoyed) and Renpet, the allegedly retired feline former CIA officer brought our nieces, two adorable but rambunctious kittens, to the table.
Hero Doctor, my husband/cardiologist and former Army officer, is also a military scholar. This morning he wanted the youngsters to learn about a hero. And as he told the story of Charles Jackson French, even the little kitties stopped tormenting each other to listen.
And so, I present my column space to Hero Doctor, my honored guest columnist.
Once upon a time, in the dark days of World War II, there was a naval vessel called the USS Gregory.
It was in the waters near Guadalcanal, in the early hours of morning darkness, on September 5, 1942, that this destroyer transport was gunned down by Japanese forces.
Charles Jackson French was a messmate aboard that vessel.
When his ship sank and French drifted in the water, he saw a makeshift raft floating. While the Japanese continued to fire upon the survivors, he began pulling his wounded mates onto the raft.
On that raft along with French, was a junior officer, Ensign Robert Adrian.
As the raft drifted through shark infested waters, Adrian realized that the current was carrying them toward an island occupied by the Japanese.
While enemy searchlights allowed constant shelling to be aimed at the little raft of survivors, Adrian confided his concerns to his shipmate, French.
Charles Jackson French had been a powerful swimmer and so he volunteered to tow the raft away from that shore.
Robert Adrian urged him not to do this, concerned that French would only be shark food and yet another man would be lost.
But this brave sailor felt more afraid of the Japanese than of sharks and insisted that Adrian help to tie a rope around his waist.
As he entered the water, he said, "Just keep telling me if I'm goin' the right way."
And so, French enduring his most grueling swim, for six to eight hours in the darkness, pulled his shipmates out to sea. When the sun rose, an aircraft spotted the life boat and a Marine landing craft was dispatched to rescue them.
Who was this courageous Navy man?
He was a Steward's Mate 1st class which ranks above an ordinary messmate.
Charles Jackson French learned to swim in a segregated pool. When he was eighteen, he decided to enlist in the navy. At that time, the navy was segregated, just like the swimming pool and he could only serve as a mess attendant.
He received little recognition for his heroism during his lifetime.
Finally, in 2022, Rear Admiral Charles Brown, presented Charles Jackson French's relatives with a posthumous Navy and Marine Corps Medal.
In his book of poems "Day of deliverance," copyright, 1944, the Pulitzer Prize winning poet, William Rose Benet wrote about French: "The Strong Swimmer."
One of the stanzas reads:
"And a dark shoulder and muscled arm
Lunging, steady and strong.
The messman, their brother who bears a charm,
Is towing their raft along."
And Benet's beautiful poem ends:
"And all that they knew was they called him, "French"
Not quite a name to sing.
Green jungle hell or desert trench,
No man did a braver thing.
He's burned a story in my brain,
Set in my heart a song.
He and his like, by wave and main,
World without end and not in vain
Are towing this world along!"
Dr. Curmudgeon suggests "Bitter Medicine", Dr. Eugene Eisman's story of his experiences–from the humorous to the intense—as a young army doctor serving in the Vietnam War.
Bitter Medicine by Eugene H. Eisman, M.D. –on Amazon
Doctor Curmudgeon® is Diane Batshaw Eisman, M.D., a physician-satirist. This column originally appeared on SERMO, the leading global social network for doctors.
SERMO www.sermo.com
Click Here to Order Boxing Interviews Of A Lifetime By "Bad" Brad Berkwitt