Ringside Report's Fight Report of Recent Results and Upcoming Bouts Around The World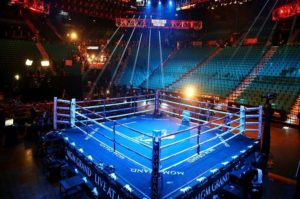 By Donald "Braveheart" Stewart
As easy as 1, 2, 3 or A, B, C here we have what happened, what is about to happen and what is due to happen in the boxing world from the perspective of a fan with a laptop, in the heart of Scotland. Three fights, all being talked about and talked up and not all for obvious reasons.
Flash Back – Ringside Report's Rear View Mirror – one fight from the week past from a Scottish angle (Look it up on a map…)
UK – biggest and most notable – what should be the biggest news in the UK boxing scene.
Saturday 11th March
In Paris for the EBU light heavyweight belt
Dan Azeez W rsf 12 Thomas Faure.
Dan Azeez travelled abroad and added the European title to the ones he already possesses as he schooled and beat Thomas Faure, stopping him in the final round of their 12 round contest.
It was the right stoppage, at the right time, for the right reasons.
Faure was unable to cope with Azeez and eventually the judging, which had delivered one strange decision and was going to deliver another, later on, was not needed.
Azeez dealt with the taller man and forced the eventual stoppage with great skill. Azeez had begun well and won the first three rounds with Faure unable to connect with anything meaningful. But in the fourth Faure began to demonstrate some resistance which was showing Azeez it was not all going to be his own way, but that just gave Azeez more focus. In the fifth that showed with more spite coming from the Brit. In the seventh the crowd began to play their part and Faure found his second wind, but it was Azeez who could sustain the pressure.
By the final round, Faure was struggling and the final flurry of punches from Azeez stopped his man, and though he did complain that it was too early to stop the fight, there was nobody else in the venue who saw it as much else except the right thing for the referee to do.
My View
Dan Azeez has done his work in a traditional manner, of that there is much to admire. He has managed to snare a mentor and trainer in Buddy McGirt that suggests he is very serious about his career. He is now a stable mate of Callum Smith's which suggests he is truly walking amongst the right company.
But Azeez has a lack of pedigree behind him which means that the relationship he has with McGirt is going to determine how far he goes. There are some, possibly many, who admire him but see the world level fighters as far too far from Azeez that a world title fight appears more like a dream than a realistic prospect.
I don't know about that but I do know that he deserves all of the admiration going for this was an exceptional result in the midst of a very hostile environment.
Fast Forward – the week to come as viewed from one side of the Atlantic
UK – biggest and most notable – what should be the biggest news in the UK boxing scene.
Saturday the 18th of March 2023
In Newcastle, the WBA continental title at super bantamweight shall see Hopey Price face Thomas Masson.
In a fairly low-key set of fights in Newcastle this weekend there is one fight on the undercard which catches the eye. It sees unbeaten prosect Hopey Price, take a significant step up in who faces against former WBC flyweight challenger and European champion at flyweight, Frenchman Daigo Higa.
Higa may now be some way from when he was a champion at European level and being touted as a world champion, but Price needs to be sure he can manage this contest as his career has been carefully guided up until this point. Whether this is a fighter who shall crash and burn in amongst the hype that surrounds all prospects shall be tested on Saturday night.
A former European Youth Champion and gold medalist at the Youth Olympics himself, Price has expectations. He has fought on many an undercard of great significance and this looks like a more low-key affair but far more importance.
My View
Rightly or wrongly, Matchroom have taken some heavy criticism this last week or so. The furor around Boxxer signing a deal with Joshua Buatsi has held the headlines, but they have also taken some criticism for their management of the Connor Benn situation and some of the fighters who were once super stars but are now having to find how to save their careers have been noticeable post Matchroom. This all make this show even more significant. There are few superstars on this card, but there are plenty who Eddie Hearn shall claim as major talents. But it is from these bread and butter shows that the next blockbusters emerge. I think Price is one of them who has a really bright future and would expect him to blast his way through this test though probably winning on points is most likely.
Future History – and the week to follow…
UK – biggest and most notable – what should be the biggest news in the UK boxing scene.
Saturday 25th March
In Manchester at cruiserweight, Lawrence Okolie defends his WBO title against David Light.
Click Here to Order Boxing Interviews Of A Lifetime By "Bad" Brad Berkwitt