Trump Possibly Being Indicted On Tuesday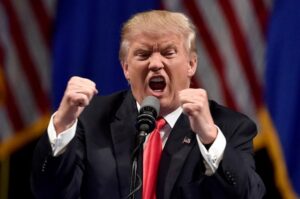 By Nikki Slusher
Rumor has it that on Tuesday former President Donald Trump will be making his indictment debut. On Saturday, the Dorito Gambino posted on his Truth Social account that he is anticipating being arrested on Tuesday. The impending arrest is connected to the years-long investigation into Trump's payoff of Stormy Daniels whom he had an affair with in the early 2000s.
Naturally the orange guy has called upon his supporters to protest such a move. Trump referred to himself as the "leading Republican candidate and former president of the United States will be arrested on Tuesday of next week" — though he failed to disclose why he might be arrested. After the post Trump's team was quick to clarify he has not received any notifications from prosecutors at the time.
The New York prosecutor leading the probe into Trump's hush money scheme, Alvin Bragg, has also become the former guy's latest target. Trump has gone as far as saying that Bragg — who is a Black man — is only pursuing him because he's a "racist." Meanwhile, in reality Bragg was initially cautious in continuing his probe into Trump. But it seems that we are long past that hesitation.
Per CNN's John Miller's reporting on Friday, local, state and federal law enforcement officials in New York City have been in meetings all week regarding security preparations for Trump's possible indictment. This has agitated the former president who has been hounding his team to get his base riled up as he believes this would help him with his political aspirations. Either way, an indictment on a former president who is currently running for president in 2024 would be a historical moment in the U.S.
I really would love to see him doing an O.J Bronco style chase in a golf cart going 11 mph. Manifesting this outcome for all of us who have been waiting years for this day to come. Everyone is welcome to my indictment watch party this Tuesday — I'll even provide the margaritas and popcorn!
Click Here to Order Boxing Interviews Of A Lifetime By "Bad" Brad Berkwitt