Ringside Report Remembers Two Time Light Heavyweight World Title Challenger Richie Kates (1953-2023)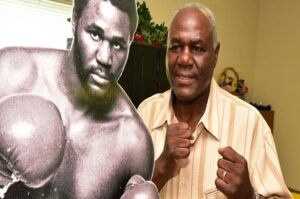 By Donald "Braveheart" Stewart
Every now and again you get an assignment which opens up the joy and delight that boxing brings in bucket loads. Sadness moves from the details of the loss of someone to fascination over their career and how they have managed to skip under your radar. Being a Scot where the tradition of boxing may not be as high as other sports, combined with a time when there was no instant news or internet can explain much of it, but there are special people out there who deserve their share of praise. And one such fighter is Richie Kates, 44-6, 23 KOs.
A former light heavyweight world title contender, Kates, recently passed at 69 years of age and left a legacy about which I knew little when I started this quest. By the end of it I have barely scratched a very impressive surface.
Kates was part of a light heavyweight contingency that ranks as good as we have now, but for many who can look back with memories would suggest was much better. If Bivol, Beterbiev, Smith et al of our current generation could manage to match the likes of Matthew Saad Muhammad, Victor Galindez, or Pierre Foure or Jeff Lampkin or Jerry Martin, then they might debate it… Kates fought each one of these titans.
Never a world champion. Kates did fight for a world championship twice but didn't get the results.
Never forgotten but not often mentioned, by those who knew, as one of the greats.
Never leaving the ring in defeat in his last five fights which were all victories, this marked him out as a special fighter, because of who was amongst those last five opponents.
Hailing from Savannah, Georgia, Kates eventually settled in New Jersey with his family, where he spent his final years, having been a respected trainer in boxing once his own gloves started to gather dust on a shelf. His career, widely reported, and according to boxing promoter, Russel Peltz, began when he was a young boy, going pro at the age of just 16, using a fake ID.
In December of 1969 that debut was in Baltimore where he won on points, when he rose from the deck to beat Bobby Haynes, also a debutant, on points. Though from Georgia and settled in New Jersey Kates fought in Philadelphia for most of the beginning of his career, establishing himself and his popularity within that fine fighting city. Kates remained unbeaten until October of 1972.
His first defeat came when he was stopped by Eddie Owens, in Philadelphia, stopped in the 7th round, by the veteran. Kates then went on an impressive winning streak over 14 fights, including getting revenge over Owens, in July 1973 when he got a 10 round points win over him again in Philadelphia – different hall, different result, same city.
Then, in May of 1976, got this first of two shots at the WBA title held by Victor Galindez. Galindez stopped Kates in the 15th round in the first fight, in Johannesburg, then a year and a month later in June 1977, the defending champion, Galindez won a 15 round decision in the return fight that was held in Rome.
Kates battled on, not retiring until October of 1983, this after a win over Jerry Martin. But before the retiral and amongst the world title fights he beat Don Fullmer in 1973 in Philadelphia widely on points, beat Jimmy Dupree in 1974 with a 1st round stoppage for the North American Boxing Federation title, as well as a points win over Pierre Fourie in Johannesburg but there was also a defeat to Matthew Saad Muhammad for that NABF light heavyweight title when he was stopped in the 6th before beating Jeff Lampkin in Atlantic City in 1983, and his final fight, on the 26th of October 1983, a split decision win in Atlantic City against Jerry Martin.
But his legacy, let me turnback to his former promoter, Peltz, interviewed in 2017 said, "Richie fought during what was the best era of light heavyweights in history. The current light heavyweights are good fighters, but they wouldn't have the records they have if they were facing the guys from the 1970s and early '80s."
And with that thought he goes off into the ether and those memories are what endure.
Click Here to Order Boxing Interviews Of A Lifetime By "Bad" Brad Berkwitt