60 Seconds with Dynasty's John James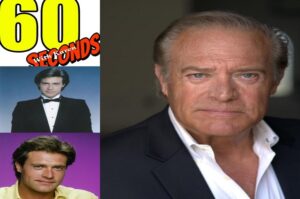 Exclusive Interview by Karen Beishuizen
John James became world-famous when he starred as Jeff Colby in the 80s tv show Dynasty and its spin-off The Colbys. He also starred in As the World Turns and All My Children. Director David Giancola has cast him in several of his movies.
KB: Did you always want to be an actor when you grew up?
Yes, I was watching classic films at a very young age. I wanted to be in showbiz, but I felt I was too shy.
KB: How did you get the role of Jeff Colby on Dynasty?
I was selected to be a part of ABC's holding contract for young actors. Twelve of us all ended up on series and I landed on Dynasty.
KB: You played the part from the first episode in 1981 until the last in 1989. Does it ever get boring if you play the same character for so long?
No, it never got boring. If anything, I was becoming tedious. After the 200th episode I was getting tired. Shooting the show was only one aspect of being on a hit. PR, personal appearances, it adds up.
KB: Are you still in touch with the cast of Dynasty? Who was your favorite to work with?
Yes, still in contact. Last Year Gordon Thomson, Jack Coleman and I did a little nightclub act called "Cocktails with The Carrington's". Joan via email, as well as well as Emma, and Pam. I would say John Forsythe and Pamela Sue Martin were my favorites to work with.
KB: You also played on As the World Turns and All My Children. How was it working on these shows?
I started out at 20 with my first paying job as an actor on Search for Tomorrow. The work is really hard. Dynasty would shoot one show in 7 days. On a soap you shoot 5 a week. I vowed to never work again on one. Working all day returning home and learning lines for the next day, was a lot. There was no prompting.
KB: You played in movies and a documentary directed by David Giancola. What is it about him that you seem to love working with him?
David happened to live near me in Vermont. He hired me to be in a picture Called Ice Breaker. We became close friends and made three films together.
KB: What are you currently doing?
As an actor, most of the time you're out of work, unless you're working steady on a TV show. I always have something in the "works" but nothing to report today.
Find John on Instagram: HERE
Click Here to Order Boxing Interviews Of A Lifetime By "Bad" Brad Berkwitt