Ringside Report Remembers Terry Hall Singer and Founding Member of The Specials & Fun Boy Three (1959-2022)
By Karen Beishuizen
Terry Hall was born in 1959 in Coventry and had a German-Jewish grandfather. He said of Coventry: "It was an industrial city built on immigrants. I don't think it is an accident that a group like The Specials came out of that". He was abducted by a pedophile ring on a trip to France at age 12. He mentioned this in the song "Well Fancy That!" on Fun Boy Three's second album.
He became depressed and left school before his fifteenth birthday. He founded The Coventry Automatics in 1977 – 1978 which he fronted as singer. The band became The Specials in 1979. BBC Radio 1 DJ John Peel helped them to prominence by playing their debut single "Gangsters" on his show. The first album "The Specials" was released in October 1979 and their second "More Specials" in October 1980. In June 1981 Hall left the band and founded Fun Boy Three with two of his Specials bandmates Lynval Golding and Neville Staple.
In 1982 their duet with Bananarama "It Ain't What You Do" was released and it became a big hit all over Europe. Fun Boy Three's self-titled debut album was released in March 1982 and in 1983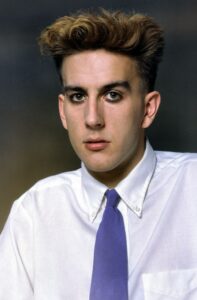 their second "Waiting" which contained the hit single "The Tunnel of Love". Hall formed the band The Colourfield in 1984 and Terry, Blair and Anouchka in 1989. Dave Stewart of the Eurythmics asked him to join in a new band called Vegas in 1992. A solo career started in 1994 with his album "Home" with a second solo album in 1997: Laugh. In later years he had guest appearances on albums by Gorillaz, D12, Toots and the Maytals, Dub Pistols. He appeared at Glastonbury in 2007 with Lily Allen. In 2008 The Specials reunited, and Hall performed with them until his death.
Suffering from lifelong depression he attempted suicide in 2004.
Terry Hall died on 18 December 2022 from pancreatic cancer at the age of 63. He leaves behind three sons.
Rest in Peace Terry…
Click Here to Order Boxing Interviews Of A Lifetime By "Bad" Brad Berkwitt