Ringside Report's Fight Report of Recent Results and Upcoming Bouts Around The World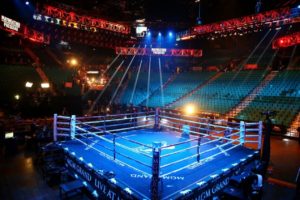 By Donald "Braveheart" Stewart
As easy as 1, 2, 3 or A, B, C here we have what happened, what is about to happen and what is due to happen in the boxing world from the perspective of a fan with a laptop, in the heart of Scotland. Three fights, all being talked about and talked up and not all for obvious reasons.
Flash Back – Ringside Report's Rear View Mirror – one fight from the week past from a Scottish angle (Look it up on a map…)
UK – biggest and most notable – what should be the biggest news in the UK boxing scene.
Saturday the 18th of March 2023
In Newcastle, WBA continental title at super bantamweight
Hopey Price W UD Thomas Masson.
It was thought of as a fairly low-key set of fights in Newcastle at the weekend, but once again what erupted was a belter of a top of the bill clash and some decent undercard action. That included unbeaten prospect Hopey Price, managing a significant step up in beating former WBC flyweight challenger and European champion at flyweight, Frenchman Daigo Higa.
Price, only 23 years old, has a massive future so this was Matchroom giving him a real challenge and watching out for a fighter who had his trajectory curtailed last year due to a back injury. And so, this was meant to be rounds in the bank and a deposit was secured.
Higa, though a live and game opponent could not catch Price and barely landed a glove on him throughout the ten rounds. Price was fantastic at using his notable height advantage to great effect showing a maturity in his approach which marks him out.
My View
Whether Hopey Price ends up being the world beater people believe he is or yet another British fighter who made his name and then withered, shall depend upon careful management of him. For me, he is the real deal. The problem will be getting the right opponent. Along with Adam Azim, these are the two young fighters I can see in the next five years making serious waves in the sport.
To that end an area title this year would be good, but, with Matchroom behind you, is it more likely to be a British title or a sanctioning body title to get you noticed. That may spell the wrong pathway as he is a young pup in boxing terms.
Fast Forward – the week to come as viewed from one side of the Atlantic
UK – biggest and most notable – what should be the biggest news in the UK boxing scene.
Saturday 25th March
In Manchester at cruiserweight, Lawrence Okolie defends his WBO title against David Light.
Both anew and pretty het up about it, Britain's Lawrence Okolie finds himself on a new/old platform to share his new techniques. Okolie has taken himself off from Matchroom and DAZN and back to Sky. After 13 months out of action he faces David Light, in defense of his WBO title.
Light has warned Okolie, that this is no easy fight, and he is right. Earning his shot thanks to a 10-round win against Brandon Glanton in December of last year, Light is dangerous, and this is a fight which Okolie needs to win well.
Okolie has split with everybody to get his career where he wants it to be. There are very few who think Okolie shall lose – unless they are from New Zealand, so expect a decent win from the Londoner.
My View
If Lawrence Okolie loses, he ends up looking foolish. He has changed his management team, his trainer, his promotional platform and his attitude towards many who have helped him get to the WBO title. Who knows, he may be right.
But coming back to Sky is a big statement as a world champion, but perhaps he thinks that Boxxer and Sky need him more than he needs them. To be fair, Boxxer and Sky have captured a fantastic fighter with great pedigree, and this is a matchup between two undefeated guys.
Okolie has the greater pedigree but Light has talked about how he intends to fight and seems to have a gameplan in place. As such I would be wary if I were Okolie. A lot of people have made big decisions and come to regret them…
I don't think though, Okolie shall be one of them…
Future History – and the week to follow…
UK – biggest and most notable – what should be the biggest news in the UK boxing scene.
Saturday 1st April 2023
Who is the heaviest fool as Anthony Joshua takes on Jermaine Franklin in the 02 Arena, London.
Click Here to Order Boxing Interviews Of A Lifetime By "Bad" Brad Berkwitt