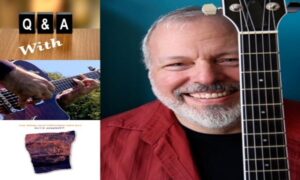 Exclusive Interview by Karen Beishuizen
Photos courtesy of Mike Keneally
Mike Keneally is a is a guitarist, keyboardist, vocalist and composer who played with many greats like Frank Zappa, Dweezil Zappa, XTC's Andy Partridge, Steve Vai, Joe Satriani and Neil Young. His new album "The Thing That Knowledge Can't Eat" was released in February 2023. If you have not checked it out yet, you are missing out on something!
KB: You played many instruments at a young age. Tell me about it.
My parents realized that I was supposed to be a musician before I did – I never thought I'd play an instrument when I was seven years old, but my parents gave me an electric organ for my seventh birthday, and I took to it right away. After playing organ for four years and getting into Keith Emerson at age 10 which started to slowly influence my keyboard playing, I was really craving to play guitar as well, since so much of the music I loved was based around it, so on my eleventh birthday I got an acoustic guitar, and started dabbling in harmonicas, recorders and percussion. I got a bass guitar as a graduation present when I was 17 and really fell in love with bass playing at that time as well.
KB: How did you become Frank Zappa's guitarist? You were called his Stunt Guitarist?
I got bold and called up his office in 1987, asking for a job. I'd been crazy about his music for years and taught myself to play a lot of it, so I thought I'd let him know. I didn't really think he'd take me seriously, but this phone call led to an audition which led to my joining the band. Frank had invented the Stunt Guitarist position for Steve Vai in the early '80s, and while he did refer to me that way on some albums, I ended up modelling my role more after Ian Underwood, who played multiple instruments in the band in the '60s and early '70s. I was playing guitar, keyboard and singing, and while I wasn't as brilliant as Ian, that sort of "filling-any-function-that-needs-filling" role was what I was shooting for.
KB: What kind of person was he and how was working with him?
He was outrageously charismatic so he could be intimidating, but if he was feeling good, he was totally cool to hang out with, outrageously intelligent and just so freaking funny. I kind of idolized him when I was growing up so I was really relieved to find that he was generally an easy and always an inspiring person to work for, and he was really kind and generous to me – he could have shredded my psyche very easily, given that it was my first professional musical experience really (I'd never toured before and barely had played outside my hometown of San Diego). I was totally green, and he was really kind and supportive of me.
KB: You then worked with Dweezil Zappa?
I did; after Frank said he'd never tour again and then subsequently his illness was diagnosed, I was very eager to maintain contact with the Zappa world, even if he wasn't working, so when Dweezil asked me to join his band I was grateful to still be in that orbit. I also really loved Dweezil's songwriting; he was composing some of the sickest rhythms and craziest melodies I'd ever encountered but presenting them in an early-'90s rock band format with incredible energy. Ahmet was an absolutely amazing front man in that band as well. First, we were called the Dweezil Zappa Band, but the band's name was changed to Z – it was hard to capture the band's energy in the studio, but on stage we were absolutely devastating, I gotta say. Incredible live band.
KB: How difficult is it to arrange multi-tracked guitar parts and single-track piano arrangements? It is a world of difference. Tell me the process.
Very different things indeed; when I'm arranging guitar parts on a studio recording, it's basically just a big harmonic playground, and it's not about being able to execute the piece live, it's just about painting with sound – you have to play all the parts well, but it's really about decorating with sound. Doing a solo-piano arrangement, and in particular the album I made for Steve Vai featuring my piano arrangements of his compositions, is a hundred times more stressful because it's just you, just one instrument, and any slight flub is exorbitantly obvious. Piling on guitar overdubs, the harmonic and rhythmic possibilities are limitless; creating a piano arrangement to be played live, the possibilities are potentially limitless, but you're still limited by what your technique allows. Doing the Vai arrangements, I strained to grow and evolve my technique with each arrangement. I learned a lot but man it was hard, the hardest album I ever made.
KB: You worked with XTC's Andy Partridge?
Yeah! What an honor. I loved XTC like mad in the '80s and then Scott Thunes (Frank Zappa's bassist) invited the members of XTC to our Birmingham show in 1988, and Andy and Dave Gregory from XTC came to the show. We got along well instantly and Scott and I were invited to the band's recording sessions for the Oranges and Lemons album in 1989. So, we'd been pals who'd see each other every once in a while, but it was quite a few years before one of us suggested we try writing songs together – neither one of us can remember who suggested it! We ended up writing nine songs which formed the basis of my album Wing Beat Fantastic. I loved the experience very much and we both have hopes of writing more songs together when the time presents itself.
KB: Are there currently any artists you would love to collaborate with?
For years I said that I wanted most of all to collaborate with Wayne Shorter – I still do, even though he's passed, and I think of all musicians who have left this planet he's probably the one who's still most open to collaborating, but as of now I'd most love to play with Neil Young. Just weave guitar solos together for a couple of hours.
KB: Tell me about your new album "The Thing That Knowledge Can't Eat". What is it about and who is playing with you?
It's the first album I've put out in almost seven years, and about half of it was recorded mostly on my own at home during lockdown. There are numerous other really brilliant players on there – Steve Vai, Bryan Beller, members of the Metropole Orchestra, Nick D'Virgilio, Pete Griffin, Malcolm Mortimore who was in Gentle Giant in the early '70s, Tobias Ralph, Eric Slick and Ted Morton – these are all amazing musicians and I'm very grateful to have them on the record. It's nine songs long, covers a whole bunch of ground stylistically, and the album title is based on the word "Yielbongura," which is used in the language of the African people known as Dagara; they don't have a word for the English language concept of "the supernatural," but they do have the word "Yielbongura" for which the closest English translation is "the thing that knowledge can't eat." I thought that was a pretty delightful concept. My wife then noticed that "the thing that knowledge can't eat" is also kind of a fancy way of saying "can't get your head around it," and I thought that was pretty nifty too.
Check out Mike's website: HERE
Find him on Facebook: HERE
Click Here to Order Boxing Interviews Of A Lifetime By "Bad" Brad Berkwitt