Doctor Curmudgeon® Number Four Has Left the Field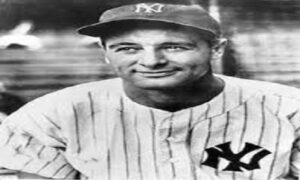 By Diane Batshaw Eisman, M.D. FAAP Doctor Eisman is in Family Practice in Aventura, Florida with her partner, Dr. Eugene Eisman, an internist/cardiologist
He wore those pinstripes with pride.
He was a legend.
A first baseman, he played in the first seven All-Star games.
And he was captain of the Yankees.
In 1969, the Baseball Writers' Association of America voted him the greatest first baseman of all time.
Of course this great man, this "Iron Horse" is Lou Gehrig.
Henry Louis Gehrig (born June 19, 1903 as Heinrich Ludwig Gehrig) known for all his brilliant career achievements in baseball, is also known for suffering from Amyotrophic Lateral Sclerosis, or ALS. In fact, this horrendous neurologic disease has become known as 'Gehrig's Disease."
ALS or Lou Gehrig's Disease or motor neuron disease….whatever name it goes by is a devastating, degenerative illness that is progressive and goes on to ravage nerve cells that control voluntary muscle movements. It works its way through the nervous system attacking neurons from the brain through the brainstem and spinal cord. As cells die off, muscles atrophy. These victims can have weakness, spasticity, twitching
As it advances, there are problems swallowing, shortness of breath and death.
Sebastian is Galahad's nephew. (And my cousin, Galahad is the brilliant Siberian Husky who, with all his intellectual pursuits and appointments, manages to keep our entire household as stable as possible). Sebastian, half Husky and half Samoyed, is trying out for first base on his school team.
Sebastian had come to the breakfast table wearing a Number 4 T-shirt. He had kept this on all weekend. My eyes misted up as I stared at the number 4 with Gehrig beneath it. Sebastian looked at me quizzically.
He had read of his hero's sad final days. And we had spoken of the devastation of ALS.
But this morning as we sat together, we remembered some of the achievements of one of the greatest first basemen ever.
From Britannica:
"He left baseball with a career batting average of .340, with 493 home runs and 1,990 runs batted in, all during regular season play. In seven World Series (34 games), he batted .361, hit 10 home runs, and drove in 35 runs."
He certainly earned the designation of "Iron Horse," having played in 2,130 consecutive games. That record stood until September 6, 1995 when Cal Ripken, Jr surpassed it. Took a long time for someone to break that record.
Gehrig was a prodigious hitter. He had a career record of twenty three grand slams and that stood for seventy years until Alex Rodriguez came along and broke that record.
Yes, Lou Gehrig was one of the greats of baseball, but I found the speech that he made on July 4, 1939 and read his closing words to my nephew.
It was a sad day in baseball when the entire Yankee Stadium became silent. Lou Gehrig, his head down had slowly walked up to the microphone, giving what has since become known as "Baseball's Gettysburg Address."
New York Mayor Fiorello LaGuardia, along with 61,808 fans were present when Gehrig said, "Fans, for the past two weeks you have been reading about the bad break I got. Yet today I consider myself the luckiest man on the face of the earth. I have been in ballparks for seventeen years and have never received anything but kindness and encouragement from you fans…So I close in saying that I might have been given a bad break, but I've got an awful lot to live for. Thank you."
There was complete silence in this vast stadium. Then the crowd stood up and for two minutes, thunderous applause filled the stadium.
Wiping tears from his eyes with his handkerchief, Lou Gehrig walked away from the microphone.
Babe Ruth walked over to him and encircled him in a hug.
Number four had left the field.
Dr. Curmudgeon suggests "Bitter Medicine", Dr. Eugene Eisman's story of his experiences–from the humorous to the intense—as a young army doctor serving in the Vietnam War.
Bitter Medicine by Eugene H. Eisman, M.D. –on Amazon
Doctor Curmudgeon® is Diane Batshaw Eisman, M.D., a physician-satirist. This column originally appeared on SERMO, the leading global
Click Here to Order Boxing Interviews Of A Lifetime By "Bad" Brad Berkwitt