Ringside Report Looks Back at Women's Boxing Champion Brenda Vickers-Dudney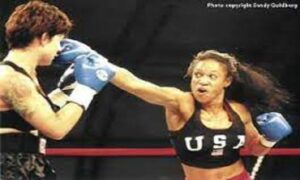 By Donald "Braveheart" Stewart
As I sit and write this, in the UK, we have had our own Savannah Marshall beat Franchon Crews-Dezurn for all the belts at super middleweight whilst the self-styled GWOAT, Claressa Shields broke the sound barrier by screaming encouragement for her fellow American at the side of the ring. Marshall won and won well enough that a rematch with Shields is likely now to happen.
Women's boxing is enjoying itself just now with a whole load of undisputed world champions at the top of their game, fighting each other. Many will point out that there are not too many top-level women boxers to pick and choose from when deciding who is your next opponent but there are quite a few historically who have blazed a trail. Many of them are neither Jane Couch or Christy Martin but were out and about around the same time and largely forgotten. At Ringside Report, we don't forget…
And so, Brenda "The Real Deal Too" Vickers-Dudney, 6-4, 1 KO, from Tampa in Florida, active between 1999 and 2002 was one of the top contenders of the time when she boxed. Formerly a body builder and fitness champion, she turned to boxing and had a decent career in modelling along with acting work before making her way into a professional ring. It was taking advantage of 2 for 1 deal with her husband, Jeff Dudney at a local gym that meant she found herself with the gloves on and her debut was on the 30th of April 1999, at the Park Plaza Hotel, Hialeah in Florida where she beat and dropped Marcela Guido with a TKO win in the 4th round.
It was an auspicious start but for her second fight, there followed a match in Miami against a much more experienced fighter in Snodene Blakeney. It was a loss on her record on points over 4 rounds due to being tricked according to her husband into the fight. Vickers-Dudney took the fight at short notice but was supposed to fight a girl of similar experience. That was the deal, according to her husband, Jeff Dudney who explained in one interview exactly what happened: "We had an agreement with the matchmaker that we wanted to fight girls with similar experience, with Brenda just starting her career. He told us he didn't have the name of the girl we were to fight and had no contract for us to view. He would never let me talk to the promoter directly and for good reason. He gave me a phony name of the girl we were to fight and told us she had one fight and was 0-1. I have also found out that the contract he gave my wife to sign was not the contract for the fight.
He didn't want us to turn down the fight because this was Snodene's ninth fight at 6-2 and I hear her two losses were very controversial. There were no weight restrictions in the contract, and she weighed about 10 pounds more than Brenda. She had studied tapes of Brenda to see the best way to fight her, I found out from other people I have talked to. They froze us out in the dressing room for five hours as they kept changing the fight schedule. Not to make excuses but the cards were stacked against us. I hate to sound bitter but there was no excuse for what he did to us. We are now with a new reputable manager and matchmaker team and good things are in the future. Even with all those advantages, Snodene barely won on points. Look for the "Real Deal Too" to be champion in the next few years!"
To recover from her first loss, Vickers-Dudney took out Pamela Opdyke in St Louis, Mississippi over 4 rounds, then closed 1999 out with a 4 round points win over debutant Demetrice Steele in Bossier City, Louisiana.
By 2000, she was getting used to the professional game as she reflected in a 2002 interview with with John Pengygraft of the St. Petersburg Times in January 2002 "Training is hard. We're not playing around here. But the training's well worth it. You're going to need it when you get in the ring. You need a hard body when you get hit. You always have an ache, you always have a pain, but it's well worth it. When I train, I'm in a fight. There's an opponent in front of me. I'm putting myself in that fight. You think about that belt, that recognition."
The momentum towards some form of world title contention continued in 2000 when, in March, in Bay St. Louis, Mississippi she beat Maryanne Haik on points, then lost a split decision title fight for the IFBA Junior Lightweight crown against Doris Hackl in Halifax. It was tough as one judge had Vickers clearly ahead whilst the other two narrowly gave it to the champion.
After the fight, a disappointed Vickers told the local press that, "I won every round. She's had many, many more fights, many, many more years of experience and for the level where I am, I did well. I really thought I had it won. I don't know (about the decision), I guess this a lesson I have to learn in boxing."
Then came another loss in 2001, in Ignacio., for the vacant IFBA intercontinental junior lightweight strap against Tracy Byrd who was a former world titlist. But Vickers-Dudney was far from finished as she gave Corinne Van Ryck DeGroot her hardest fight in 2001, before in 2002, fulfilling her destiny with a points win, a clear one, rematched Doris Hackl, in Nova Scotia to win the vacant IFBA world lightweight title. Canadian Hackl was simply unable to match left handed Vickers-Dudney and was floored no fewer than three times in a fight which saw Vickers-Dudney get to 5-4 with the win – a world champion who had won more professionally, just, than had lost. It was indicative of the competitive nature of the contests and the risks people took, because there were so few around to face each other – but it was a world title win. Vickers-Dudney was a world champion.
It was apparently not just down to boxing skill but mental toughness as Vickers had got a hypnotherapist on board to help her overcome her fears – after three straight losses – and it clearly helped. She went as far as to change the color of her boxing shorts as it was associated, in her mind with her losses. It was a decision which also led to her making the choice to retire. After the Hackl rematch she fought once more. On the 9th of November 2002, she beat Brenda Drexel in West Palm Beach in a non-title fight on points. She did not plan on retiring and called out Mia St. John. St John was a champion, according to Vickers-Dudney in hiding and she was quoted as saying: "You should be ashamed to call yourself a champion when all you look for is give-me fights. Styles make fights, and your style suits us fine. We are now issuing you an open challenge, via the internet, so that if you refuse then what people are saying about you is the truth."
It never happened and Vickers retired as she could not make decent fights. In a that interview with John Pengygraft, Vickers-Dudney was found in reflective mood, noting "Winning is great. You get to a peak in a fight when you know you've won. It's a great feeling; you know your opponent and you know you're going to beat them. You can know it in the third round of a 10-round fight. It's hard to describe, especially if it's someone with a title or who has more fights than you. Then there's fights where you lose something. You lose the will, and no matter how hard you try you can't get it back. It's in your heart too, you want to get it back, but you can't. You're concentrating more that you're losing than on the fight. If you have heart, you just keep on going and hope you'll get a lucky punch that'll knock her out."
Of course, it was not the only interview she gave and when asked by a certain "Bad" Brad Berkwitt in October 2000 what advice she would give to young boxers, she told him, "First of all, go to a good gym. You need to be very careful because there are lots of people that want to lead you in the wrong direction just to make a buck off of you."
Her words resonate today as much as then as she responded to Brad's question too about the state of women's boxing at the time said, "I take this sport very seriously and work very hard to constantly get in shape while continuing to learn the skills of boxing. They (boxers trading off their father's names) come in with a name and make the big bucks, while there are plenty of ladies out there such as myself, who are not making that kind of money, but have the skills and love boxing. We should be getting the money fights because it's only fair."
And so, at a time when the likes of Ali and Frazier saw their daughters face each other in the ring, women's boxing was there but was still trading off men. Now, it has more authenticity because it has the big fights, though there are still great fighters not earning riches. But the future? It's bright if properly looked after…
Click Here to Order Boxing Interviews Of A Lifetime By "Bad" Brad Berkwitt