Q&A with Make Believe Friends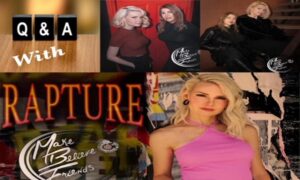 Exclusive Interview by Karen Beishuizen
Make Believe Friends is a female fronted Rock band from Los Angeles with Mindy Milburn on vocals and Laura Espinoza on guitar. They did a cover of Blondie's Rapture which is causing a stir as it is great. Go check them out live when you get the chance!
KB: The band's name: Does it have a meaning or how did you come up with a name like that?
(From Mindy, she came up with the name)
I always thought Make Believe Friends was a good name because I liked all the imagery that comes with it. It has a little mystery, whimsy and magic. Also, when I think of Make Believe Friends, it makes me think that anything is possible- it really lets the imagination run wild- from a musical standpoint it gives us a lot of room for creativity in our sound.
KB: Blondie's Rapture: you make it your own and I like it. What made you pick this song to cover?
Thank you so much-glad you enjoyed it. It was so much fun to do. Rapture is quite a masterpiece and an epic song to begin with. We love Blondie and feel akin to them as our songs all have their own life and own sound. So, we drew inspiration from Blondie and wanted to show that with this interpretation of Rapture, adding our MBF spin to it by pushing up the rock aspects of the song.
We chose this song because it has so many layers to it- the very dreamy verses, the edgier pumped-up choruses, and of course the iconic rap. It has the great guitar solo in it and a funky baseline that carries through the song-it just really lets everyone shine, and we are so happy with how it turned out, and we hope that if Blondie ever heard it, they would agree. We were also blessed to have legendary producer Ed Stasium (Talking Heads, Ramones) who has actually performed on stage with Debbie Harry as well, do the final mix on the song.
KB: You are from L.A. Did you always want to be musicians?
(From Mindy) Yes, we have, and although the twists and turns of life have taken us away from music at times, it always has brought us back to it. If you're a musician or any type of artist it's always there inside you, even when you're not in the position to be actually making your art. I moved out here from Ohio to pursue this, it has always been my dream, always what I saw myself doing. Writing songs and performing is just in me, there's really no other way to explain it- it is my outlet and my therapy for life.
(From Laura) I am from Orange County, and it was just either surf, get in trouble or play in a band, so I picked the latter. I was lucky enough to have my high school band (Ashbury) include Matt Sorum who later became the drummer for Guns N' Roses and Velvet Revolver. Later I was able to record at Abbey Road (Studio 2). I actually was away from music for years to work for Disney/ABC and earned 3 Emmy Awards. However, I came back to music in 2007 and so glad I did. I was able to put a notch on my bucket list by recording at Abbey Road, UK Studio 2 in 2013.
KB: An album with 7 of your favorite songs to make your own: What would you pick and why?
(From Mindy) Wow great question-Laura and I split this one. I am very emotionally connected to music, the first 4 songs I chose because they are all very driven from raw emotions and I remember having an instant connection to them the first time I heard them that went beyond my ears to my heart and soul. They are all amazing songs as is of course, but I can imagine them with our MBF interpretation which is a little darker and rocked up.
Wuthering Heights by Kate Bush is the first song that comes to my mind. I remember how floored I was the first time I heard this song. It's so unique, dark and eerie and beautiful all at the same time.
Strawberry Fields Forever the Beatles. Of course, one of the Beatles most famous songs but it's also my favorite. This is another song with a beautifully melancholic sound to it with thoughtful lyrics and a melody and arrangement that I think would blend well with our style.
A Favor House Atlantic by Coheed and Cambria. This is a very catchy upbeat pop-rock sounding song with emo undertones. It's telling the story of a battle but from the upbeat tone of the song you wouldn't think it's about anything dark. I love songs like that that juxtapose a happy melody with lyrics or subject matter with a darker tone.
No Alarms and No Surprises by Radiohead. I have always loved this song, the aching lyrics and Thom's emotional delivery. It has such a stunning melody and an arrangement that builds and explodes, I would definitely want to play that up.
(From Laura) Wow, I'm so surprised Mindy chose Strawberry Fields Forever, I love that song so add it to my list. I would also love to do Kashmir (Led Zeppelin). I so love the darkness and haunting melody of it. Lastly, maybe Breed by Nirvana. I think it's their most underrated song and leaves an opportunity to bring it back into the public fold. I think Mindy would slay on the vocals of it and the riff is just so amazing.
KB: Are there any current artists you would love to collaborate with?
(From Mindy) I think it would be amazing to collaborate with Imagine Dragons-their music is very compelling, and I feel the MBF sound vibes with theirs. Also Smashing Pumpkins. Billy Corgan is a master vocalist, musician and songwriter and it would be a dream to work with him.
(From Laura) I would love to collaborate with Terri Nunn from Berlin. I have performed her song "Metro" with her on stage and I think she is just amazing on every level.
KB: Lunden Reign is your secondary band name. What is Lunden Reign?
(From Laura) Lunden Reign was my band's name before Make Believe Friends. We released 2 full critically acclaimed albums on Cleopatra Records which were produced by Luis Maldonado (currently guitarist/backing vocals for Foreigner). The lead singer left in 2018 to pursue a solo career and I was lucky enough to meet and team up with Mindy Milburn (she and I are the core of Make Believe Friends). We decided to change the name to Make Believe Friends, however since I wrote and own the majority of Lunden Reign's catalogue, we decided to keep it and connected it to Make Believe Friends, this way we can add Lunden Reign songs to our live performances and maybe even might re-record some of the songs for MBF.
KB: What are you currently up to?
Currently we just headlined the legendary Viper Room in Hollywood and possibly will perform at The Troubadour, Hollywood in Fall. Between Make Believe Friends shows we also perform as a Blondie/Madonna Tribute which is just a lot of fun for us.
Check out Make Believe Friends website: HERE
Find the band on Facebook: HERE
Click Here to Order Boxing Interviews Of A Lifetime By "Bad" Brad Berkwitt