Q&A with Opera Singer Ivan Magri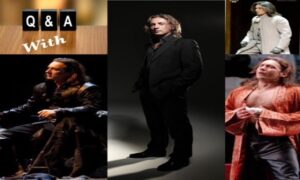 Exclusive Interview by Karen Beishuizen
Ivan Magri, born in Cantania, Sicily, is an Italian opera singer who made his leading role debut as Fernando in Marin Faliero by Donizetti at the Donizetti Opera House in Bergamo. Luciano Pavarotti was his mentor. I saw him at London's Royal Opera House in 2016 and he was amazing. So, if you get a chance, check him out!
KB: Did you always want to be an opera singer growing up?
Well, my mother's family were all actors, so I grew up surrounded by actors initially. At first, I wanted to follow in their footsteps and become an actor, but as I began to sing, I realized that I could combine my love of singing with acting. That's when I decided that opera would be the perfect medium for me to pursue my passions.
KB: Where did you study to become a singer?
I began my studies in Catania, Sicily under the tutelage of Signora Monti. Later, I continued my training at the Conservatory of Milan, where I was fortunate enough to study with esteemed vocal coaches such as Canetti, Borelli, and Ernesto Palacio.
KB: I read that Luciano Pavarotti was your mentor?
Yes, I would definitely say that he was my mentor. I am deeply grateful for the opportunity to have studied under the guidance of Maestro Pavarotti.
KB: What was your opera debut and where? How did you feel?
My debut in a leading role was as Fernando in Marin Faliero by Donizetti at the Donizetti Opera House in Bergamo. When I look back on that momentous occasion, I still feel a deep sense of emotion and gratitude towards the people who believed in me and gave me the opportunity to shine on stage.
KB: You played many roles in many operas. Which one is your favorite and why?
Of all the roles I have sung in my career, Il Duke di Mantova in Rigoletto is the one that I have performed the most. It's a role that keeps my voice healthy and in top form. However, the role that I feel closest to my intimate character in real life is Rodolfo in La Bohème by Puccini. And if I were to choose a role that really excites me vocally, it would be Manrico in Trovatore by Verdi. I recently debuted the role at the Staatsoper Berlin and look forward to the opportunity to sing it again.
KB: I saw you perform at The Royal Opera House in London 2016 as Nemorino in L'elisir d'amore. Amazing! How long did you have to study for this role?
Thank you for your kind words! I usually prepare for all my roles in the same way, by trying to be as musically and vocally prepared as possible. With regards to Nemorino in L'elisir d'amore, I dedicated several months to studying the role, learning the music, memorizing the lyrics, and working with my vocal coach to ensure that I could perform the role night after night with consistency and excellence.
KB: Of all the opera houses you performed, which one is your favorite and why?
I must say that I love singing in all opera houses. Each one has its own unique energy and audience, which makes every performance a special experience. While I have had the privilege of performing in many wonderful opera houses throughout my career, I cannot choose a favorite as each one holds a special place in my heart.
KB: If you were to make an album with 7 of your most favorite songs: what would you choose and why?
Although it's difficult to choose just seven songs, I would love to record an album of all of Puccini's songs. To me, they are like little musical jewels, each one with its own unique beauty and emotional depth. Puccini's music has a special place in my heart, and I would be honored to have the opportunity to record them.
KB: What are you currently up to?
I recently performed in Turandot by Puccini at the Staatsoper Unter den Linden, and I am thrilled to have the opportunity to sing the role again soon in Peru. I am also preparing for performances of La bohème in Tokyo, which I am very much looking forward to.
Find Ivan on Instagram: HERE
Click Here to Order Boxing Interviews Of A Lifetime By "Bad" Brad Berkwitt