Q&A with Beloved Singer Bette Smith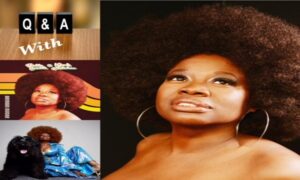 Exclusive interview by Karen Beishuizen
Bette Smith is an American singer with a unique smoky soulful voice. She turned the country song "Tennessee Whiskey" into a soul song and her next move was "Sign Your Name" which we all know from Sananda Maitreya (Terence Trent D'Arby. Her album "The Good, The Bad & The Bette" is awesome. If you have not heard it yet, go check it out!
KB: Did you always want to be a singer growing up?
Yes, I've always had a burning desire to sing.
KB: Who were your idols as a kid and are they still as an adult?
Tina Turner was and will always be counted as one of my greatest influences.
KB: Why did you start out as Bette Stuy and then change to your birth name Smith?
Well, I was born and raised in Bedford-Stuyvesant, Brooklyn and it just made sense to take on that stage name, which a band member suggested early on. But when I received my first record deal, the label said that the name and pronunciation was confusing for anyone outside the NYC area not familiar with the neighborhood. So, I ended up merging 'Bette' with my born last name, 'Smith', and the rest is history.
KB: In 2018 WNYC Studios Radiolab invited you to contribute a song to a project called 27: The Most Perfect Album with each track inspired by the US Constitutional Amendments. You chose the 13th Amendment with the song Happy Warrior. Why the 13th Amendment?
When I was approached to select an amendment for the project, it dawned on me that I had recorded "Happy Warrior" at Dial Back studio in Mississippi a few months earlier. It was originally part of the "Jetlagger" project, produced by Jimbo Mathus, founder of the Squirrel Nut Zippers. Although the song never ended up on "Jetlagger", it actually felt perfect for the WNYC project. So, in Brooklyn, I recorded the 13th Amendment vamp, and back in Mississippi, Jimbo recorded some new guitar parts and our engineer, Bronson Tew, did an amazing remix, culminating into this wonderful new track, which I'm really proud of.
The song took on whole new vibe. As for the 13th Amendment itself, I'm totally aware of the opportunities and experiences I've been so lucky to have, and I hope to continue encouraging people who are on a similar path. Sharing my singing to as many people as possible just gives me infinite joy.
KB: In 2018 you performed at The Montreux Jazz Festival. Tell me how that was.
It was surreal. First of all, the landscape in that region of Switzerland is breathtaking with Lake Geneva next to the festival grounds. Second, the fans as well as staff were magnificent. So, the whole experience was incredible. I had a chance to meet a wonderful woman, one of the founders of the festival. She acquainted me with its rich history and talked of legends over the years and mentioned that Quincy Jones was just sitting on the Green Room couch just a day before I arrived to perform.
KB: I did an interview with Sananda Maitreya (Terence Trent D'Arby) last year. Your version of Sign Your Name is better than the original! Why did you choose this song?
Well, thanks so much for the compliment! I was really enthusiastic about Cleopatra's proposal. I interpreted the meaning of the song as a feeling of freedom. When my manager, Daniel Lerner, and I were driving from Malibu to the San Fernando Valley to record vocals this overwhelming feeling of freedom and a sense of inspiration came over me—from the claustrophobic concrete jungle of Brooklyn to the vastness of Topanga Canyon it all welled up in me—and that was that. Less than an hour later, I was singing the track, and it all came out.
KB: Are there any current artists you would love to collaborate with?
Mick Jagger. I met him at the Mustique Blues Festival in the Caribbean a couple years ago and I'd love to record a duet with him. Also, the Teskey Brothers of Australia. As it happened, I shared the stage with Josh and Sam while on tour at The Holland International Blues Festival in June of this year. Lastly, it would be amazing to collaborate with Fantastic Negrito whom I had the pleasure of meeting at The Mempho Music Festival last summer.
KB: What are you currently up to?
Soon I'll be on my way to a 7-festival and club engagement across Spain–late July to early August. Then, in September, I'm honored to perform at the Harvest Music Festival in New Brunswick, Canada followed by a stint at the famous Folly Theatre in Kansas City, Missouri. And early next year, I'm excited to join some of the greatest Blues artists of today at the 40th Legendary Rhythm & Blues Cruise in the Caribbean.
Check out Bette's website: HERE
Find her on Facebook: HERE
Click Here to Order Boxing Interviews Of A Lifetime By "Bad" Brad Berkwitt