Q&A with Carol Drinkwater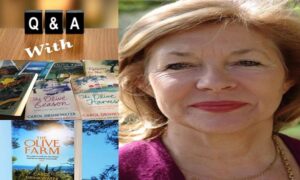 Exclusive Interview by Karen Beishuizen
Carol Drinkwater is best known for her role as Helen Herriott in the series "All Creatures Great and Small" about the vet James Herriott. She is also an accomplished writer of books about her olive farm in the South of France where she lives with her husband. The book series consist of The Olive Farm, The Olive Season, The Olive Harvest, The Olive Route, The Olive Tree and Return to the Olive Farm. If you have not read them yet, please do as they are wonderful stories.
KB: You live with your husband in the South of France where you fell in love with an olive farm. Tell me the story.
I was filming in Australia shooting a mini-series for children called Golden Pennies. Michel, now my husband, was the French executive producer of the series. When he arrived in Sydney, we found that we were staying in the same hotel. He invited me for dinner and on that same evening asked me to marry him! I didn't take him seriously but when we both got back to Europe – he to Paris and me to London – we began to see each other. He invited me to Cannes for the Film Festival. While there I started looking for a house by the sea. We were taken inland and found our farm. The land was a jungle and the house semi-dilapidated and yet we both fell in love with it. And so, the story goes on from there …
KB: You wrote a collection of 6 books about the farm: The Olive Farm, The Olive Season, The Olive Harvest, The Olive Route, The Olive Tree, Return to the Olive Farm. What is so special about the farm that you cover it in so many books?
It is a magical place but more importantly we have poured all our love into it. Our love for one another and for the beautiful tree that is the olive tree. The Mediterranean seduced me with its ways of life, its people, mixed cultures, excellent food and wine, living right by the sea … all those joys and the challenges are in the books.
KB: Which is your favorite of the 6 and why?
I don't have a favorite, or perhaps the first The Olive Farm because it got me started on a very special journey.
KB: Who are your favorite writers and why?
I read vastly. Many different authors, a real cross section. I read many women writers. The French writer, Annie Ernaux or the Peruvian writer Isabel Allende who I have been reading since she wrote The House of the Spirits. I read many Irish writers because I am Irish. I love John Banville or Claire Keegan – she is marvelous.
KB: Are you still acting or are you more a writer these days? What would bring you back to acting?
Last year I shot a six-part TV series for Channel 5 in the UK called 'Carol Drinkwater's Secret Provence'. It was a huge success. What I loved about it was that it was a mix of my private life here on the Olive Farm, places and people I know and love in the South of France, a little bit of acting was involved and yet it was inspired by my writing work. So, yes, I write mostly these days, but I am always open to getting involved in a new TV or film project. I love a new challenge.
KB: The Olive Farm: A memoir … The chapter with the wild boars. Is it fiction or did it really happen? That must have been terrifying.
The boars really existed. We are completely fenced in now so the boars cannot access our little farm but when they could hunt and forage on our land with their young the damage, they caused was pretty upsetting. Plus, the mothers are very dangerous and can seriously hurt you if they are protecting their young. One sow killed a neighbor's dog. Fortunately, these are all stories for the books these days.
KB: I read you started a new book. What is it about or is it too early to tell?
Too early to say, I am afraid. It is written now and is sitting with my agent who will find a publisher for it. Then, later, I can talk about it. It is set down here in the south of France on a fictitious vineyard overlooking the sea.
Check out Carol's website: HERE
Check out the US Publisher's website for Carol's books: HERE
Find her on Twitter: HERE
Click Here to Order Boxing Interviews Of A Lifetime By "Bad" Brad Berkwitt