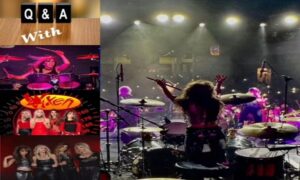 Exclusive Interview by Karen Beishuizen
Photos courtesy of Vixen
Roxy Petrucci is a drummer who plays with the bands Vixen and Madam X. A new Vixen single and video are in the making and will soon be released. They are on tour this summer and fall. She is putting the finishing touches on a new Madam X album. Go check out Roxy and her two bands Live when you get the chance!
KB: Did you always want to be a musician growing up?
Yes, I came from a family of musicians and my father strongly encouraged all of us to pick up an instrument or two. I also play clarinet and I think that's more in line with what he had in mind…. but once I picked up drums and discovered Black Sabbath, my life took a different path.
KB: What made you pick the drums?
My sister Maxine was playing guitar and we wanted to start and all girl band, so my choice was bass guitar or drums. I love the primal aspects of drumming and I had a mad crush on a guy who happened to be a drummer so…ha-ha. Once I started playing drums I instantly fell in love with drumming, and it became my life.
KB: Describe for the RSR readers how Vixen was founded?
Guitarist Jan Kuehnemund started the band in Minnesota and ended up in California like many bands do. She went through many member changes through the years before finding the perfect lineup of Janet, Share and myself. Janet was the first to join and a few years later I joined after they caught wind that Madam X split up. Jan saw Share perform in a club and gave her phone number on a napkin… the rest is history. We knew there was chemistry once we got together in the rehearsal room. We felt the magic.
KB: I read they called Vixen the female Bon Jovi back in the days. What is your reaction?
I dig it! Bon Jovi is melodic rock with cool riffs, big choruses…big hair! We've been mistaken for Poison a few times out in the streets. I gotta say those guys did a great job with their makeup!
KB: Of all the bands you and Vixen toured with: who was your favorite and why?
Ozzy, Scorpions and Deep Purple. All three! It was an honor and mind blowing to be on tour with these legends who I grew up listening to. We had so much fun, and they were so inspiring to watch perform every night. I'm a huge Black Sabbath fan so touring with Ozzy was a dream come true for me. During Deep Purple's set I would sometimes sit behind Ian Paice just to watch him play. He's an incredible drummer and a very kind man. The Scorpion's tour was our first arena show and they welcomed us with flowers in our dressing room and a note saying, "Welcome to the big show!" We were excited to say the least.
KB: If you could make an album with 7 of your most favorite songs (not your own): what would you pick and why?
Hmm tough question… but You just gave me a good idea and I think I just might do that!
KB: Are there any current artists you would like to collaborate with and why?
My sister Maxine and I have a strong connection and it's effortless when we write music together. Jacob Bunton is a talented writer/musician/producer someone I'd love to work with. Lita Ford and I have shared the stages going way back to the early 80s. I'd love to work with her in some capacity. I think Taylor Momsen from Pretty Reckless is a powerhouse too.
KB: What is the current line-up of Vixen?
Lorraine Lewis -vocals.
Britt Lightning – guitars
Julia Lage- Bass
Roxy Petrucci -Drums
KB: Are you working on a new album? Touring?
We have a new single about to be released soon and it's killin! We have a video we shot in LA to coincide with the single and we'll be touring throughout the summer and fall. I'm also working with Madam X and we're putting the finishing touches on a new album. Release and tour dates TBA. I look forward to coming back to Europe and rocking your faces off!! Revved Up!
Check out Vixen's website: HERE
Find Vixen on Facebook: HERE
Click Here to Order Boxing Interviews Of A Lifetime By "Bad" Brad Berkwitt