"King of the Hill" Voice Actor Johnny Hardwick Dies at 64 – Entertainment News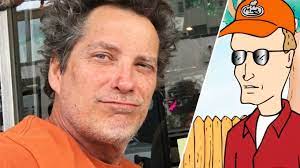 By Geoffrey Huchel
Johnny Hardwick, who provided the voice of Dale Gribble on the animated series KING OF THE HILL passed away August 8, 2023. Hardwick was found dead at his home in Austin, Texas. The cause of death has not been disclosed. He was 64.
Hardwick began his career as a stand-up comic in 1990, appearing in venues the Dallas Improv and the Velveeta Room in Austin. Hardwick had successful run doing stand-up comedy all over the country, and then KING OF THE HILL (1997-2010) came along. Hardwick was cast as Dale and performed the role for the entire 13 year run.
His additional filmography includes NATURAL SELECTION (1999), THE COLLEGIANS ARE GO!! (1999), and WARPED KART RACERS (2022).
Ringside Report sends our condolences to Johnny Hardwick's family during their time of grief.
Click Here to Order Boxing Interviews Of A Lifetime By "Bad" Brad Berkwitt