Mark Meadows Asks Federal Court To Drop GA Charges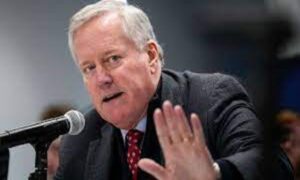 By Nikki Slusher
Donald Trump's former chief of staff, Mark Meadows, has asked a federal court to drop his charges in the Georgia election case. Last week prosecutors in Fulton County, GA, hit Trump, Meadows, and 16 other co-conspirators with RICO charges related to the false electors scheme created to overturn the electoral vote in the state from Biden to Trump.
Meadows submitted a new filing over the weekend arguing that he should have immunity from the criminal probe since he was operating as a federal employee under the orders of then President Trump. He claims that his actions only occurred due to his senior role in the White House as an adviser during the Trump administration. This filing comes as the latest example of how Meadows is eager to aggressively fight for his own protections from Trump's antics related to the 2020 presidential election.
In the filing, Meadows' lawyers emphasize how he is not accused of having violated federal law in the special counsel's indictment, nor has he been listed as a co-conspirator. During his tenure at the White House, "Mr. Meadows served a critically important advice-and-assist function that has been firmly entrenched in federal law for nearly 100 years," his legal team wrote to the judge on Saturday regarding the Georgia charges per CNN's reporting. "The conduct charged here falls squarely within the scope of Mr. Meadows's duties as Chief of Staff and the federal policy underlying that role."
Fulton County DA Fani Willis and her team accuse Meadows of assisting in the coordination of the false electors scheme by connecting officials in Michigan, Pennsylvania, and Georgia, with others and the White House. This is how they began planning on how to aid Trump and stop the Electoral College certification for Biden's presidency in January 2021.
"Stripped of the State's gloss, the underlying facts entail duties with the core functions of a Chief of Staff to the President of the United States: arranging or attending Oval Office meetings, contacting state officials on the President's behalf, visiting a state government building, and setting up a phone call for the President with a state official," Meadows' attorneys stated in the filing. "Only by virtue of his Chief of Staff role was Mr. Meadows involved in the conduct charged. Put another way, his federal position was a but-for cause of his alleged involvement."
It's anticipated that Trump will try to use the same move. According to Meadows' filing, however, the former chief of staff intends to move his case through the court system as quickly as possible. Meanwhile Trump has attempted to push back his cases until after the 2024 presidential election.
Click Here to Order Boxing Interviews Of A Lifetime By "Bad" Brad Berkwitt