Trump Spreads "Roomer" About DeSantis Campaign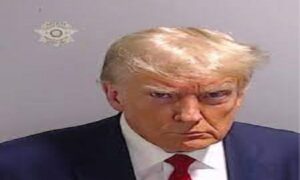 By Nikki Slusher
This week started off with an eventful start. The drama between former President Donald J. Trump and Governor Ron DeSantis (R-FL), both Republican primary presidential contenders, unfolded in a comical way. On Monday, Trump posted on Truth Social that there was a "roomer" that the Florida governor would drop out and take up a primary run against incumbent GOP U.S. Senator Rick Scott (FL) who is up for reelection in November 2024.
"Clearly, Donald Trump and his army of consultants are panicked about Ron DeSantis' winning debate performance and the strong momentum that has followed," the DeSantis campaign's press secretary, Bryan Griffin, said in a statement. He called Trump's post "fake news" and shot back that the Trump campaign should be "focused on getting their candidate on the campaign trail in Iowa and on the debate stage."
Trump has been the Republican front runner ever since he's announced his run for 2024. He was noticeably absent from the clown show of the Republican presidential primary debate last Wednesday, where eight of the GOP's candidates appeared on stage to argue about who is the least woke. Per Axios, "Trump, who instead did an interview with fired Fox News host Tucker Carlson that aired Wednesday, has cited his large polling advantage as reasoning for skipping."
Is Trump nervous that DeSantis could take his place? Maybe. But I think Trump's mind is more caught up in his legal troubles than over DeSantis who has only 11 percent of GOP voters' support for the primary. If anything, this was Trump's way of giving DeSantis orders on what he expects him to do.
Click Here to Order Boxing Interviews Of A Lifetime By "Bad" Brad Berkwitt