"Margaritaville" Singer Jimmy Buffett Dies at 76 – Entertainment News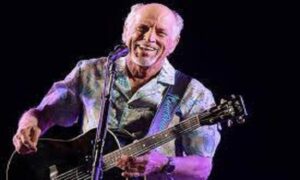 By Geoffrey Huchel
Singer-songwriter Jimmy Buffett, whose hits included "Margaritaville" and "Cheeseburger in Paradise", passed away September 1, 2023. No cause of death was given. Buffett's dearth was announced on his social media pages. A statement released by his family said "Jimmy passed away peacefully on the night of September 1st surrounded by his family, friends, music and dogs. He lived his life like a song till the very last breath and will be missed beyond measure by so many." Buffett was 76.
Buffett began his career in Nashville, Tennessee, during the late 1960s as a country artist and recorded his first album, "Down to Earth". In the early 1970s he moved to Florida and began establishing the beach-bum persona he became known for. He combined country with folk, calypso, rock and pop, giving his music a tropical feel. His second album was 1973's "A White Sport Coat and a Pink Crustacean". The albums "Living and Dying in ¾ Time" and "A1A" followed in 1974. In 1976 came his next "Havana Daydreamin'" and "Changes in Attitudes" in 1977, which featured the breakthrough song "Margaritaville". In total, Buffett released more than thirty albums.
Aside from music, Buffett was also a bestselling author, writing three number-one bestsellers- Tales from Margaritaville and Where is Joe Merchant? Both spent over seven months on the New York Times Best Seller fiction list. In 1998 he published his memoir A Pirate Looks at Fifty, going straight to number one on the New York Times Bestseller non-fiction list. He also wrote two children's books, The Jolly Mon and Trouble Dolls.
Ringside Report sends our condolences to Jimmy Buffett's family during their time of grief.
Click Here to Order Boxing Interviews Of A Lifetime By "Bad" Brad Berkwitt