Ringside Report Looks Back At Highly Decorated Amateur Boxer Jessie Valdez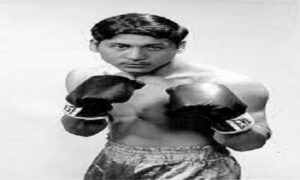 By Donald "Braveheart" Stewart
"The Lord gave me a gift."
So said amateur 1970s boxing genius Jesse Valdez to Ken Hissner of Boxing Insider.
And he did because Jesse Valdez was a phenomenal boxer – slick, clever and very effective. The fact that he never turned pro means that many miss him when they consider the best boxers of the 1970s but his rise in the amateur ranks was enough for him and to be fair, should be enough for the rest of us, to recognize just how good he was. Winning a bronze medal at the Munich Olympics in 1972 may have been the pinnacle, but it is far from the whole story.
His journey in the boxing ring began when he was 11years old and joined his local boys club. He was probably a typical kid in his local area – youngest of seven, within a low-income family and raised by a single strong woman, the family pets were likely to be the cockroaches. In the house! Of his time in the gym as a kid he was at one point to comment, "I guess I did well because I started beating older and bigger guys."
He had caught the attention of a lot of people and found that his background, more than his ability was likely to see the hand outstretched to help him out. It was not long before people realized that what he really needed was 12 rounds, gloves and a regular sounding bell.
Coached by Charles Cord in his formative years he developed a style which was both impressive and effective and Valdez's journey truly started when he was just 16 years old. That was when he won the National AAU welterweight title when he faced, and beat another bronze medalist from the Olympics, Quincey Daniels: a hell of a way to announce yourself! That was 1964. It was the year he also made the Olympic squad as an alternate, but never made the team. But his journey was already being made real as he went on, in 1967, to win a bronze – a color he seems to have been particularly fond of – at the Pan American Games.
In 1968, he was once again to be an alternate for the Olympics, but again, not used.
From 1969 until 1972, Valdez was in the Air Force. It was during that time he was to prepare and qualify for the Olympics. Preparation for the finals where he was to be selected included sparring with bigger fighters like Reggie Jones. Valdez even had a sneaking suspicion that Jones stayed heavier to avoid being beaten by Valdez in the trials – why? Because Valdez was the boxer everyone believed was going to return with a gold medal from Munich.
Boxing out of the Air Force, he went on to win the National AAU light middleweight championships in 1970, having won the Golden Gloves at that weight in 1967 – a feat he repeated in his Olympic year, 1972. Getting the opportunity to travel did more than broaden his mind, it made him a better person. Without a strong male role model, times were tough for a kid who was boxing and looking to develop. He was now looking to places he could have only dreamed of, like Africa, and possible scholarships which he could not take because he lacked the discipline to stay in school.
And so, in the year of Munich, 1972, he qualified, this proud Mexican American – no longer and alternate – to fight for his country at the pinnacle of amateur sport – the Olympics. His qualification was assured, after he beat a future world champ, Eddie Gregory – later Eddie Mustafa Muhammad – in the qualifiers. At Munich he represented his country in the welterweight division and came back sporting a bronze medal. And what a team went in 1972 – it included Sugar Ray Searles who won gold, whilst Valdez was one of three bronze medal winners – Marvin Johnson and Ricardo Carreras being the other two. The other team members included Duane Bobick, Reggie Jones, and Dave Lee Jones – who all turned professional and Raymond Russell, Louis Self, Tim Dement, and Louis Busceme, who, like Valdez did not.
In Munich he took on Kolman Kalipe of Togo, in the first round of 32 and beat him on points – 5-0. The Peruvian Carlos Burga was next in the round of 16 and was beaten 4-1, before the quarter final placed him up against the Soviet's Anatoly Khohlov. It was another 4-1 win for Valdez.
Then came the semifinal and the Cuban Emilio Correa.
Correa was on his way to the gold medal, but it was no plain sailing as he had to take the win against Valdez on a split decision. Future world welterweight champion, Correa was never to hit the same heights in the Olympics again, but his win was one, at the height of Cuban boxing, which was expected, so Valdez suffered no indignity in his loss.
But he had fulfilled a dream.
Once he returned from the Olympics, according to his interview with Hissner, he had a couple of offers to consider.
"One was to stay in Air Force as the boxing coach and from Bill Daniels owner of the Denver Rockets."
The following year, however, he was a member of the all- American AAU boxing team and was named the best welterweight in the USA by the National AAU Boxing Committee. Then he left the Air Force and found himself an assistant coach in the 1975 Pan American games and working, in 1976 with the Spinks brothers. His career in the amateurs continued right up until 1980.
It was that year he made a very fateful decision and that was to not tour to Poland. Given that he was a veteran of the Olympics which was marred by a terrorist attack, that would appear to be twice in Valdez's life that near death experiences came close to him. Of the 1972 attack, he was team captain and near where the events unfolded. Asked as captain if he and his fellow athletes wanted to continue to compete or to withdraw after the attack, but he, along with his fellow sportsmen and women made the decision not to give into terrorism and the Olympics kept going until the final closing ceremony as they should have.
Once more, in 1980, he was to be close to an event that is still much remembered. Valdez made a decision that year, not to go to Poland on a plane which saw the cream of American Olympic hopefuls lose their lives in an air crash, as he explained, once more to Hissner.
"I was 35 at the time and figured at that age I was too old. Junior Robles convinced me to go but I changed my mind. He was among those killed on the airplane." He explained further in that interview, "Also veteran USA team official Bob Surkant who was a father figure to me advised me not to go. So, I told Robles I wasn't making the trip."
It was in 1980 that he hung up his gloves though he had been combining his fighting with a newfound career in television as a reporter which meant that he continued to have a very strong attachment to the sport he served with such distinction. It continued right up until his retirement as a photojournalist in 2005.
Last heard, Valdez was enjoying life with wife Jackie and two sons – James and Jeremy and occasionally granting interviews where he can go back and remember a time when things may not have been simpler, but when Howard Cossell did mention his name on more than one occasion and he was at the top of his game and we were sharing that world with him.
Click Here to Order Boxing Interviews Of A Lifetime By "Bad" Brad Berkwitt