Competition Heats Up Between Potential Trump VP Picks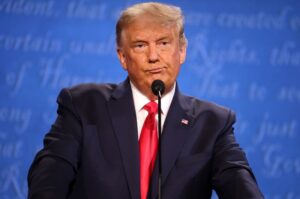 By Nikki Slusher
Two of the GOP's most delusional talking heads are competing for a promotion in MAGA land. Former Arizona Republican gubernatorial candidate Kari Lake and Rep. Marjorie Taylor Greene (R-GA) are vying for the chance to be Donald Trump's running mate for the White House in 2024. What a competition this is going to be!
Lake is best known for her failed 2022 campaign where she lost to now Gov. Katie Hobbs (D-AZ), and has since followed in Trump's steps claiming she actually won but voter fraud is how the deep state kept her out. Obviously, this means the Democrats are afraid of her (please contain all laughter until the end). As for the Georgia congresswoman, who won her 2022 reelection in a heavily red district, is notoriously known for being a profound conspiracy theorist that the majority of Americans can't stand. Oh, she's also really unintelligent and asked for a pardon before she was even sworn in to Congress.
Publicly the two women have depicted themselves as a united force to support the former president as he faces 91 felony counts in four jurisdictions; yet privately their rivalry has grown as they view each other as the biggest competition in the race to be Trump's next vice presidential pick if he secures the 2024 Republican presidential nomination. Multiple outlets report that recently Greene has been disparaging Lake in conservative circles, while Lake has accused Greene of being the one who has leaked negative information about her to the press.
According to Benzinga, "The tension was palpable during Trump's speech at Mar-a-Lago, where Greene's demeanor reportedly turned icy following enthusiastic support for Lake." Trump has also been polling his inner circle about his potential VP choice and has continuously brought up both women. However, sources familiar with his reelection campaign say the chances of either being selected are low as his team has been emphasizing that Lake and Greene could harm him from garnering support with independent and moderate voters.
In my professional opinion, selecting another election denier or an unhinged country bumpkin is not a winning strategy. You also can't have that many conspiracy theorists running on the same ticket if you want to get any votes outside of the MAGA base. Considering both women are largely unpopular on a national level, choosing one to be a running mate is as bad as (if not worse than) another indictment.
While these are just "roomers" swirling, they aren't unbelievable given the circumstances. The thought of another term of Trump in the Oval Office accompanied by a VP Lake or Greene should send shivers down every logical American's spine. It's another reminder of how consequential the 2024 election is to the state of this country.
Click Here to Order Boxing Interviews Of A Lifetime By "Bad" Brad Berkwitt