TX AG Ken Paxton's Impeachment Trial Begins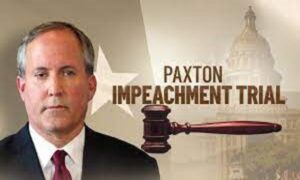 By Nikki Slusher
Tuesday morning in the Texas Capitol kicked off the first day of the impeachment trial for the state's Attorney General Ken Paxton. While he may not be forced to testify during the proceedings, that seems like one of the only few wins for the state's top lawyer. It's a momentous moment as it's the first impeachment trial for a statewide official in over a century in the Lonestar State.
Paxton is accused of bribery, abuse of power, and other misdeeds, and has been the focus of federal investigations for almost a decade. He was indicted in 2015 on alleged securities fraud, but has yet to stand trial for the specific charges. Regarding the hearings that started in the state today, the case is centered around how Paxton allegedly used his office to assist a group of investors and campaign donors.
Investigators claimed back in May of this year that they had uncovered Paxton violated the law and his oath of office on multiple occasions, including gifts to a public servant, abuse of official capacity, misuse of official information, and retaliation and official oppression. Paxton pleaded not guilty to all charges listed in the impeachment articles; also notably the first time Paxton has publicly addressed them. His lawyer, Tony Buzbee, spoke on his behalf the entire time simply saying "not guilty." However, after the secretary of the Texas senate Patsy Spaw recited the articles, Buzbee stated "everything she just said there was false."
In response to Buzbee's statement, one of the House impeachment managers objected to the additional commentary. Texas Lt. Gov. Dan Patrick concurred that Buzbee only responded with answers of Paxton's plea. Following the lunch break, Paxton did not return to the Senate floor and quickly ignited arguments from House impeachment managers that he must return to the chamber. Patrick upheld that Paxton was not required to be in the chamber at all times per an adopted rule stating he only had to be there at 9 a.m.
After the House held its vote to impeach Paxton in May, he filed a slew of motions including for dismissal of specific and/or all articles of impeachment. Additionally, he filed to prevent certain evidence being used in the trial. In Texas only a simple majority vote was needed to grant any of his motions, however, Senators did not vote among party lines. For the motion to dismiss all articles, a vote of 24-6 quashed that. The following 15 motions also were quickly rejected, with no votes being close.
The first group of witnesses were sworn in as well, including one of Paxton's former top deputies who turned him in. Jeff Mateer was second-in-command under Paxton but resigned after he filed a report with authorities on the illegalities his boss was partaking in. Day one ended with adjourning an hour early as the court needed to review which of Paxton's communications would be allowed to be used or determined as confidential.
The trial is expected to last over a few weeks, and will ultimately determine if the suspended attorney general will be removed from office. If today was any indication of what to expect, let's just say it's not looking good for Paxton. If the majority Republican state senate isn't trying to save him, then Paxton's time as the top state lawyer is quickly running out.
Click Here to Order Boxing Interviews Of A Lifetime By "Bad" Brad Berkwitt