Low Blows In The Sport Of Boxing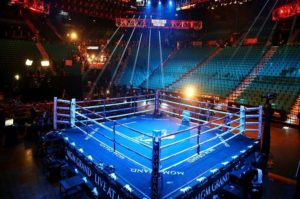 By Donald "Braveheart" Stewart
An opinion piece from the only Donald worth listening to…
Full Stop – In British English grammar a full stop is a lengthy pause, in the US, you call it a period. In the UK that tends to suggest feminine products. Here it means a period of time where I look at something in boxing in a little more depth. I am typing from my perspective of a fan who watches the sport closely. It's an opinion. It is my opinion. Don't like it? There are other opinions out there but if you don't like it then good, debate and democracy are a good thing. If you do like it, feel free to spread the word.
Go Low and Go Home…
Raging over here are people who are claiming that unified heavyweight boxing champion, Oleksandr Usyk, cheated. He didn't.
The same people are claiming that in the 5th round of his fight with Daniel Dubois, he was hit fairly and squarely above the belt in a body shot which dropped him. He wasn't.
People are claiming that for this to be resolved the fight needs to be declared a no contest and a rematch, at the very least ordered. It doesn't.
If you wish, you can go online and disappear down a rabbit hole with pictures, videos, opinion pieces and absolute nonsense about what happened that night in Poland. For me, it obscures one simple question, despite the good account that Dubois gave, what was he doing in that ring in the first place?
So let us start with the punch in the 5th round.
Daniel Dubois hit Usyk with a punch that is clearly all on the shorts. Not one ounce of the glove is above the belt line. That, however, does not make it a low blow.
If you go back to the old days, when for example Muhammad Ali fought Joe Frazier, when shorts were – short – you can see their belly buttons. They are clearly above their belt lines. It made low blows easy to spot. Hit on or below the belt line and it is a low blow.
Rules are rules and rules are clear.
Today, however, with the advent of shorts that are fancy and more pronounced advertising hoardings, that rule becomes difficult to enforce. And so, referees go and speak to the boxers and indicate to them either in the dressing rooms OR in the ring before the fight starts where they deem the belt line to be. Why? Because the use of protectors which no longer just cover the testicles and the shorts which ride up above the belly button makes the line under which a low blow is deemed to have happened is often very difficult to spot. Why? Because fighters and their camps make it so.
Usyk's shorts were riding high and above his belly button. When Dubois hit him, it was clearly underneath the area deemed to be a belt line. Usyk hit the floor like he had been shot. There was no delay as a body shot took hold but an immediate OMG, I have been hit in a vulnerable area reaction.
The referee stopped the action and allowed Usyk the regulation time to recover – up to 5 minutes.
Now, Usyk was not hit in the testicles. He was hit above them, but he knew that if he took his time the adrenaline rush Dubois got from felling him would recede, disappear and he would struggle to capitalize on the knockdown. Usyk, wily old fox, milked it.
After recovering, Dubois failed to take advantage and the fight continued as it had done for the previous four rounds – Usyk dominated until in the 9th round he dropped Dubois and stopped him.
The gulf between Usyk and Dubois was clear to see.
So, why was Dubois in there at all?
Daniel Dubois was the WBA regular heavyweight champion and the mandatory challenger. Sitting above Wilder, AJ, Bakole, Anderson et al, he had gone to a bizarre fight in the US, promoted by Don King and beat the previous champion, Trevor Bryan to win it. He then defended it against Kevin Lerena in the UK – albeit unconvincingly.
His greatest win as a professional is arguably, against a domestic rival, Nathan Gorman. If the previous three boxers I have mentioned, have caused you to go and look up who these people are, worry not, because that is precisely my point. The heavyweight scene is littered with better prospects and people who have built their reputation on the back of taking on tough challenges. Dynamite Daniel Dubois was built into a position by his wily old fox promoter, Frank Warren and outclassed in the ring at the biggest fight of his career.
Now he needs to rebuild – he is in his early twenties – but this looks very much like a boy in a man's game as he struggled in interviews after the fight. It reminded me very much of Hughie Fury after losing to Joseph Parker, who was similarly all at sea. Dubois got to his position and his opportunity by politics and maneuvering; not through banging out all comers. He paid the sanctioning fees, and the WBA over promoted him.
Against Usyk, he was in a battle, clearly had a game plan and the punch he used which was deemed a low blow was precisely the weapon needed to stop Usyk. AJ had used it in his second fight and was nearly successful – mainly because he hit Usyk ABOVE the belt line which is where the shot was deemed to be most effective. That was its target!
Dubois had been warned on four occasions by the referee that his punches were too low prior to the 5th round. He was on notice for doing what he eventually did in the 5th. Having the right game plan is one thing – executing it is a skill. Dubois does not quite have that yet, but he shall come again, and he shall, likely become a world champion. If anything serves as a reminder that boxing is cruel, that politics play a part – often disastrously – and that rules are rules, this night in Poland was the best lesson out there.
Some, however, are still at the back of the class throwing rubbers at the chalkboard…
Click Here to Order Boxing Interviews Of A Lifetime By "Bad" Brad Berkwitt