Looking Back on Boxer Sidney Evans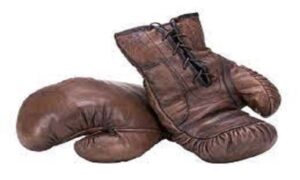 By Donald "Braveheart" Stewart
1881. It was a year in which Queen Victoria was still on the throne in Great Britain. Ireland was still part of a United Kingdom though it was the beginning of a campaign in Ireland by the Fenians which was some years later to lead to Home Rule for the south of the island. The British Empire was still in place, and it was literally, the Empire upon which the sun never set, though the first Boer War which Britain lost was to challenge its power. British troops were also to leave Afghanistan, that year.
In the arts, Patience, a new Gilbert and Sullivan opera made its debut whilst in politics Benjamin Disraeli a totemic figure in British politics dies. Henry James publishes The Portrait of a Lady and Robert Louis Stevenson, Treasure Island whilst the very first meeting, at Bart's Hospital of Sherlock Holmes and Dr. John Watson occurs. In sport, Scotland's very first mixed-race footballer makes his debut in a 6-1 thrashing of England in soccer, and we see electric lights on our streets for the very first time, in 1881.
Sidney Evans, 0-1, future Olympic boxer for Britain, was in Aldermaston, England, born, also in 1881.
Representing Reading Amateur Boys Club, Evans was at the 1908 Summer Olympics in London where he battled at heavyweight for a silver medal. A precocious sporting child, Evans had been an all–rounder as a youngster – playing plenty of sports before he settled into the noble art of boxing. It included rugby for Berwickshire Wanderers, cricket, middle distance running for Reading Harriers and soccer for Aldermaston which had all been in his repertoire.
Combat sports were, however, what captured the young Evans, and he became known for pugilism, after having dabbled in wrestling and weightlifting. Having attended the Reading School of Physical Culture, he was obviously a sturdy young lad who then found himself as a heavyweight at his very first Amateur Boxing Association (ABA) finals in 1908.
He won.
It was not the only notable event on the way to him being at the Olympics. Having been born in the era of Victoria, young Sidney Evans, of Aldermaston, had the distinction of being the very first amateur boxer to spar in front of a monarch as he did in front of Victoria's and Prince Albert's son and heir – King Edward VII.
But now that he was the ABA champion, he was an obvious pick for the home Olympics in London.
There would have been such pride but also expectation placed upon the young man's shoulders in 1908 as the best of Britain in the heavyweight division. Bad luck was to follow him there as he suffered very badly from neuralgia on the way to the finals. Despite that impediment he battled his way through to the heavyweight Olympic final. He did so by beating fellow English heavyweight Albert Ireton in the first round – Ireton was to go on and be part of the Tug of War team that won the gold medal at the self-same Olympics!
Evans then faced another Brit, Frank Parks in the semifinal. Winning on a split decision, decided by the referee, Evans was ready for the final whilst Parks, a 5-time ABA champion who came out of retirement to fight in the Olympics was to gain a bronze medal. Despite suffering and not being at his best, he was now in an Olympic Final, on home soil! Unfortunately, he had also picked up a shoulder injury and he was now particularly handicapped on his way into the biggest fight of his life.
His time in the final was, however, to be short lived. In fact, he lasted less than a minute and was knocked out in the first round by the gold medalist and new Olympic Champion, Albert Oldman. Oldman, who had scored a first-round knockout and got a bye in his own semifinal, had won the Olympic Gold medal by fighting less than a round of competitive boxing!
Ill health was to stay with Evans, and it was to force him out of defending his ABA title in 1909. He went on to serve in the army with the Berkshire Yeomanry and gave something back to the sport which had given him his greatest sporting triumphs – he ran his own Physical Culture School and wrote many boxing articles for his local paper as well as becoming a boxing referee.
Perhaps more surprising, he also created and exhibited flower arrangements!
He did manage to make it to a professional ring and on the 23rd of December 1921, Tug Wilson, in Plymouth, also a debutant, retired Evans in the 3rd round of a scheduled 15 and Evan's time in the ring as a fighter came to an end.
His end was tragic as he contracted double pneumonia and on the 8th of January 1927, lost his life at the tender age of only 45, in Reading. Having arrived at the tail end of the 19th century, his departure, deep in the beginning of the 20th century was at a different time. By then we had all been at war and in the trenches, and in 1927, the BBC was born with radio broadcasts of rugby and soccer to soon follow, the first transatlantic phone call was made, British troops were dispatched to China, Hitchcock released a silent film, and the United Kingdom of Great Britain and Ireland legally became the United Kingdom of Great Britain and Northern Ireland, its King now George V. and Sidney Evans, Olympic silver medalist made his final journey with his final retirement.
Click Here to Order Boxing Interviews Of A Lifetime By "Bad" Brad Berkwitt