Speaker McCarthy Orders House Impeachment Inquiry On Pres. Biden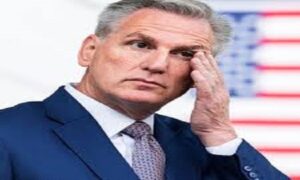 By Nikki Slusher
U.S. House Speaker Kevin McCarthy (R-CA) showed off his submissive side on Tuesday, and not in the hot, kinky way.
The House Squeaker announced that he will be opening an impeachment inquiry on the president. The investigation will center on Biden's family's business dealings. McCarthy will instruct the House led by the Oversight Committee "to open a formal impeachment inquiry into President Joe Biden." It's so comical that it's hard to believe it's real, yet it's the truth.
McCarthy claimed that from what they've seen in investigations thus far "paint a picture of a culture of corruption" surrounding the Biden family. Republicans are specifically probing the business dealings of Hunter Biden, the president's son, way before his father became president and took office. "These are allegations of abuse of power, obstruction and corruption, and they warrant further investigation by the House of Representatives," McCarthy said at the Capitol.
The White House gave a rapid response to McCarthy's decision calling it "extreme politics at its worst." Spokesman Ian Sams said of the news, "House Republicans have been investigating the president for nine months, and they've turned up no evidence of wrongdoing."
McCarthy's far-right rat pack – the Freedumb Caucus – has been pressuring him to open the investigation or be ousted from his position. The AP notes in its reporting that this is added to the fact that he's "struggling to pass legislation to avoid a government shutdown at the end of the month." Honestly, this is the most predictable thing he's done.
I truly wonder how McCarthy is able to stand up at all without any spine or backbone – a real scientific mystery. The best part though is how Trump and his family, like Jared Kushner's $2 billion payday from the Saudis, outdo any sort of family business crimes that Biden's could think of. My prediction is that this move will backfire on the GOP just in time for the 2024 elections.
Click Here to Order Boxing Interviews Of A Lifetime By "Bad" Brad Berkwitt