What Is the Point of the World Boxing Association (WBA) – Opinion Piece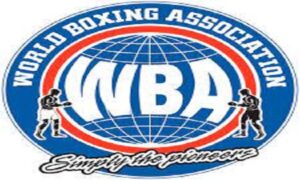 By Donald "Braveheart" Stewart
An opinion piece from the only Donald worth listening to…
Full Stop – In British English grammar a full stop is a lengthy pause, in the US, you call it a period. In the UK that tends to suggest feminine products. Here it means a period of time where I look at something in boxing in a little more depth. I am typing from my perspective of a fan who watches the sport closely. It's an opinion. It is my opinion. Don't like it? There are other opinions out there but if you don't like it then good, debate and democracy are a good thing. If you do like it, feel free to spread the word.
What is the point of the WBA…
We have a new heavyweight world champion. Manual Charr. You may have missed the fight, not been aware that he navigated past the likes of Oleksandr Usyk and Anthony Joshua, Tyson Fury, being the WBC champion was clearly not in the picture for this to happen, but there we are.
We have a new champion.
All good?
Not a bit of it.
You did not miss the fight or any of his fights, he never fought to become world champion in 2023.
When Usyk beat Daniel Dubois, low blow or no low blow, the regular WBA champion Dubois was beaten by the super champion, Usyk. A few years ago, the WBA announced that they were going to get rid of the distinctions they had made between regular and super champions, so they only had one world champion per weight division. People welcomed this. It made things slightly easier in the four-belt era to have… four belts…
But now, they have decided that Dubois losing means they can re enter the race for the most pointless prize in heavyweight boxing. That is usually left to the IBO belts, and they are consistently referred to as the "lightly regarded" IBO world titles. Boxers who win that belt are often using it as a stepping-stone to a world title attempt with a more serious belt on the line – the WBC, IBF, or WBO. Take Lyndon Arthur who won the IBO light heavyweight belt recently. We are now hearing of negotiations to see him take on Dmitry Bivol.
Manuel Charr has announced through Sky Sports in the UK, he does not take Anthony Joshua seriously anymore and is looking to unify against Usyk or Fury in the near future. His ambition is admirable. The folly is backed up by a world governing body unfit to license playground scraps.
The "pioneers" are the oldest governing body in existence. That should give them some respect, but any respect people feel towards them is consistently thrown away by the way in which they behave. And it is a proud history of being a body who should have plenty to celebrate but it is always notable that the green and gold of the WBC is mentioned as THE belt fighters want to collect and never the "super" belt from the WBA.
But of all the divisions it is their recent behavior in and among the elite heavyweights that is the most pitiful. Manuel Charr fought for the title twice, firstly against Alexander Povetkin in 2017. Up until that point the route he was taking seemed to be the WBC. But if a chance arises… He was beaten. He then got another opportunity against Alexander Ustinov and won it. He was then declared "champion in recess" and I suppose is now out of recess and back in school.
Whilst Charr was out playing hopscotch or whatever, the WBA sent in Bermaine Stiverne to be beaten by Trevor Bryan. Bryan then beat Jonathan Guidry to retain the belt and then faced Daniel Dubois in a hotel that was swimming in water after a flood and the farce which was the fight saw Dubois win at a canter and earn his mandatory shot at Usyk. Charr, Bryan, Guidry – none of them are ever mentioned ahead of Whyte, Franklin, Bakole, Hrgovic, Zhang, Joyce for a reason. They are not that good. The evidence? Their fights. Stiverne, Bryan and Guidry are all promoted by Don King – significant?
They are not mentioned in any of the other bodies' top fighters – IBF, WBC or WBO – though that may be because they have not paid the sanctioning fees and therefore not eligible to be rated by them but not one of the principal heavyweight champions – Fury, or Usyk, or the elite contenders – Wilder or Joshua – have ever mentioned their names. And it is noticeable that neither Joshua not Wilder have ever mentioned using the regular WBA title as a way back to the top. They have never mentioned it because they see it for what it is – a farce.
But Charr has the belt and is out of his exile to take his place at a table. He may find it empty as the rest of the heavyweight division are away at a different table, be it hosted by the Saudis, or be it with an MMA fighter or two in attendance as the Mixed Martial Artists is sitting wondering if their shot at a boxing world champion is as real as it feels.
And of that fight between Oleksandr Usyk and Daniel Dubois, a complaint and appeal have been lodged with the governing body to have it declared a no contest by Dubois' Hall of Fame promoter, Frank Warren. And to which governing body has it been submitted? The WBA. Given the influence another promoter has had with the WBA, perhaps we should not be surprised at whatever result they come up with…
Click Here to Order Boxing Interviews Of A Lifetime By "Bad" Brad Berkwitt