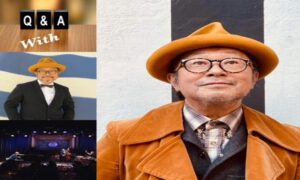 Exclusive Interview by Karen Beishuizen
Senri Oe is a Japanese jazz pianist, composer, producer, actor, singer, and songwriter. In 1983 his first single "Wallabee Shoes" was released and became a huge hit in his country. In 2007 he moved to Manhattan to study Jazz. His dog Peace is 17 and has been with him since a puppy. Check out his new jazz album "Class of 88" which was released in June!
KB: Did you always want to be a musician growing up?
Ever since I started learning piano at the age of 3. I always wanted to be a pianist and composer.
KB: What makes the piano so special?
The great thing about the piano is that anyone can make a sound by just touching it. And when you start playing, the conversation begins with the piano. The piano is a big toy if you throw away the fixed concept.
KB: Who were your musical heroes growing up?
Originally, I liked The Carpenters and Gilbert O'Sullivan, but Burt Bacharach and Michel Legrand are also my musical heroes. After discovering jazz at the age of 15, Thelonious Monk and Bill Evans became my jazz heroes.
KB: In the 80s your pop music career became very successful in Japan. How do you explain it never reached other parts of the world like America?
For me it was a matter of language. In general, automobiles and electronic products were selling explosively in the United States in the 80s, but there was no overseas expansion in music. My consciousness was always directed toward Japan. But in my brain, I always had a dream of one day succeeding in America.
KB: In 2007 you moved to Manhattan to study Jazz. What made you shift from Pop to Jazz music?
A passion for jazz. There were so many things I wanted to learn, such as mode, bebop, re-harmonization, big band arrangements…… Pop music is the music of the season, but only the great ones remain as standards. Regardless of whether I was able to do that or not, I decided, "now, let's move on to the next chapter of my life." I also felt a sense of accomplishment. I believe that jazz is a life text that can be learned and played for a lifetime.
KB: Your dog Peace is a big support to you.
I was determined to study abroad in the US, so I searched for a small, strong dog that I could explore the world with. She was mischievous and sensitive, and when I was a student at The New School, I drank too much alcohol and had acute alcohol poisoning. She licked me, grabbed me, and woke me up when I was unconscious. She is my lifesaver. Now she turned 17 and is blind, there are 9 types of medications she must take a day. But she is still a big girl, positive. For me, an important life partner. We are almost like a jazz duo.
KB: If you were to make an album with 7 of your most favorite songs (not your own): what songs you pick and why?
Las Vegas Tango / Gil Evans
Ask Me Now / Thelonious Monk
Tereza My Love / Antonio Carlos Jobim
It Could Happen to You / Chet Baker
Bolivia / Ceder Walton
Vertigo / Bernard Herrmann
Emily / Tony Bennett
Why? If I make a movie, I want to write these kinds of music by myself and make a soundtrack.
KB: Are there any current artists you would love to collaborate with and why?
Justin Bieber. Why? If he makes a jazz album, we want to write songs.
KB: What are you currently up to?
To create a jazz standard that everyone can sing along to.
Check out Senri's website: HERE
Find him on Twitter: HERE
Click Here to Order Boxing Interviews Of A Lifetime By "Bad" Brad Berkwitt