LGBTQ+ Indepth With… Erik Strijker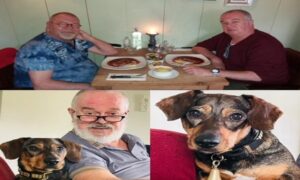 Exclusive Interview by Karen Beishuizen
Erik, 66-years old, lives in Stadskanaal, The Netherlands. At the age of 17, he went to Groningen University to study German Language and Literature, but he didn't finish it. He switched to become a male nurse and he worked in hospitals and nursing homes for many, many years before retiring because of a severe case of PTSS. Rik was the love of his life for 45 years until he passed away in 2020. Erik loves reading, watching TV and walking and playing with his dog Pax.
KB: Where were you born and how was it growing up?
I was born in Apeldoorn, a city surrounded by woods and forests near Paleis Het Loo. I had very strict parents, my father was an employee at the tax office in a rather high position, which he achieved with hard work and a lot of studying at night. He expected the same from me and my brother who is 4 years younger. Indeed, my brother took a job, like my father, at the tax office, but I only had one goal: getting as far away from my parents as possible, so I ended up at Groningen University studying German Language and Literature. After 6 months I realized that this was a totally wrong choice. I was too afraid to stop because my father paid for it. He always wanted to go to university, but his parents never had the money. In other words: I had to fulfil his dream.
KB: How old were you when you realized you were gay and what made you think this?
At age 18, I knew why I fled from my parents: I found out I was gay, and I knew immediately that my parents wouldn't accept this at all!! At the university I went with my friends to bars and discotheques. I never felt 'at home', but I never asked myself 'why'…. One weekend, there was a big gala-party because the German faculty existed 100 or so years. Every student was invited but you had to bring your girlfriend with you to the dinner party. The ladies in evening dress and the men in suit.
I asked Willemijn, a very dear girlfriend of mine, to join me. After a very nice evening she asked me to go with her to a nice pub she visited recently with another friend, and I said, "why not, good idea!". Willemijn had already noticed that I was gay, but I had not. I think I was too afraid for the truth all those years…… We went to "The Duke", a gay bar/discotheque, and I was completely surprised; it felt like home. Males were dancing, kissing, the atmosphere was totally different from a 'straight' bar, much more friendly and relaxed. So Willemijn helped me a lot with my coming out. The next weekend I went to the bar by myself, it worked like a magnet to me. A few weeks later I had my first one-night stand! I did have sex with girls before, but it only felt like 'working hard' in bed; the first time with Anton was natural.
KB: How did your family and friends react?
After a few years I had the courage to tell my parents the 'big news' which turned out terribly. I took the train to Apeldoorn, because I didn't want to tell them over the phone. My father got totally furious and shouted: "If I had known this before, you would have never been born at all!!!". This was one of the great traumas of my life, being rejected and 'thrown away' by your own father. My mother said nothing; no support from her. It was a terrible evening, a nightmare. In the middle of the night, I wrote a letter to my parents saying I didn't accept their attitude and left the house to go to the train station. It was freezing cold, and I found out that the next train to Groningen was in 4 hours. I went to the police station, told the whole story and luckily, I could wait there near the heating with a cup of coffee till 7am! I had no contact with my parents for more than a year, and then I got a call from my mother that she missed me. I went to Apeldoorn again. The relationship with my mother got sort of normal towards the end but the relationship with my father stayed problematic for the rest of my life.
KB: Did they know at your workplace / School / University you were gay?
After almost six years at the university with very little success, I was as gay as can be. Thanks to Willemijn (and myself) I had my coming out, and I can only conclude that among students it is a very safe atmosphere to get out of the closet. During my years in Groningen, I also had a parttime job at the University Hospital, working at one of the many laboratories taking blood samples from patients admitted. All my colleagues knew I was gay, no problem, but you had to accept gay jokes sometimes. At that time, I realized what a nice job it would be to work as a male nurse, nicer than being a teacher in German Language and Literature. I applied for a job a junior male nurse near Rotterdam, and I got the job! During the application procedure I told them that I was in a steady relationship with a man. I already knew there were lots of gay men working as male nurses, so for the hospital near Rotterdam it was not problem at all….
KB: Where did you meet your husband and when did you get married?
I met my boyfriend Rik at Johan's birthday party who was a mutual friend, but it did take almost three or four years before we had our first date because we only saw each other once a year at Johan's house. But from the first real date on we fell in love and had sex straight away. A few months later I had to leave Groningen to start my training as a male nurse near Rotterdam, but I went to see Rik as much as possible. He lived 2 hours away by train. After 7 months Rik moved over, and we rented a flat near the hospital where we lived together. A big step but the two of us succeeded well in one house.
It was a very romantic period. After I graduated as a male nurse, I continued my training at the Academic Hospital in Rotterdam to become a male nurse in psychiatry, but this came too close to my own difficulties in life, so I stopped. We moved back to Groningen where we bought a little farmhouse with a big garden in the countryside. I immediately got a job, because nurses are always wanted everywhere in The Netherlands. When we decided to sell our house after 17 years, we got married. It took exactly 15 minutes. On Monday mornings it was free of charge. It rained terribly hard, and we had no flowers, no family, no party: we did it just for economic reasons because our 'cottage' was for sale.
We bought a nice new apartment in Stadskanaal, where we lived for 13 years before my husband passed away. He lived with Diabetes for 60 years. He got very disabled and was in terrible pain. I retired early because of a severe burn-out due to my job which I did for more than 35 years: I had PTSS which is a depression/anxiety disorder. My husband had a private nurse 24/7 in his last years: Me. We called ourselves RikeriK (only one E difference in our first names) and were together for 45 years of which 14 years officially married.
KB: There are religions out there who still see being gay as a sin. In many countries it is even seen as a crime. How do you feel about this?
In Africa and The Middle East, you find religions with very strict rules. They forbid you to be gay. A lot of very conservative religions believe that you can be transformed into a heterosexual, impossible according to me. In my country this is forbidden., but even worse: in almost 80 countries in the world, being gay is a crime. You will simply be killed if they find out that you are gay. Totally disgusting because you yourself can't help it you were born this way.
Heterosexuality, homosexuality, bisexuality, transsexuality, intersexuality, queer, non-binary or asexuality (and there are more….), they are all a variety of the same theme: Sex. The difficulty is that you yourself cannot choose to what variety you will belong one day when you grow up…. It's a natural thing you have no influence on. The majority is heterosexual and that is how society is organized. Being gay wasn't really a problem in The Netherlands, but because of foreign religions interfering more and more in our western society, being gay is becoming more and more of a problem again. It feels like going back to the moral standards of the early 1950's. Being gay is no sin! God means Love for Everyone on this Planet! No matter who you are or what your sexual orientation is!!!
KB: Did you ever have any anti-gay incidents or experiences?
As I already mentioned, my 'ultimate worst experience of all' was when I told my father that I was gay and he said: "If I had known this before, you would have never been born at all". I still see the repulsing disgusting look on his face and his eyes were full of pure hate. My husband Rik was much more afraid of negative comments, swearing and shouting than myself, so we never held hands in public for 45 years. Nevertheless, people 'smell' that you are different, despite that you wear the same clothes and behave like them. They think they have the right to say nasty things to you.
Over the years you get used to it. I feel superior to these kinds of people, and it doesn't hurt me anymore. Sometimes I reply with "you dirty heterophile" or whatever, knowing that this person is quite stupid and probably doesn't even know what it means. Since Rik's death, I realize I do this a lot more. So, beware of Gay Erik!!
KB: Who is Pax?
When I first met Rik, The Love of My Life, he had a little dog called Tadzio (named after the film "Death in Venice"). He was, what they call in The Netherlands, a "Farmers Fox Terrier". We had about 5 dogs during our 45 years together. During the 17 years we lived in our farmhouse, we also had several cats. They were our "children"…. The last three years of Rik's life, we had no dogs. Our Norwich Terrier had passed away. Because Rik's health got worse and worse, and I had a hip replacement surgery, walking a dog four times a day could become a problem if something should happen to me.
When Rik passed away in July 2020, there was nothing left for me in our apartment; no Rik, no dog, no nothing, only silence and emptiness. Within a month, Dorgy Pax (means Peace!) arrived: half Dachshund, half Corgi. It was a great decision I made. Pax and my friends helped me a lot to cope with Rik's loss.
KB: What would you like to say to all the homophobes out there?
Everything that is different from the 'normal' accepted standard in human society, will be rejected in the beginning. But one cannot 'choose' to be gay, you are simply born as one. It's the same for the total LGBTQ+ society. You can only choose to reject yourself and live like a 'fake' hetero in our heterosexually orientated society, but you will be having a very difficult life, almost impossible or unbearable in my point of view.
Live and Let Live! God, Allah or Buddha loves everyone in the world! No matter where you were born or what your sexual orientation is. We are all equal and one has no right to judge the other!!!!
Click Here to Order Boxing Interviews Of A Lifetime By "Bad" Brad Berkwitt