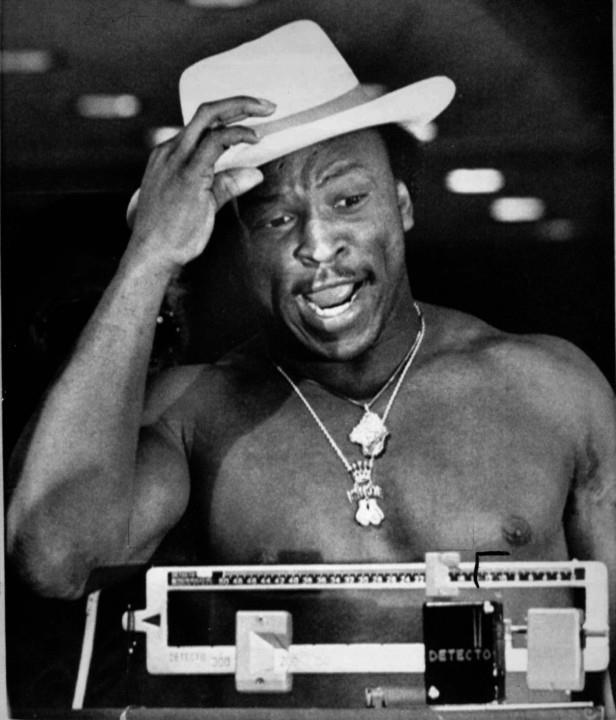 By Vinny "Glory Days" Lucci
…"in the clearing stands a boxer and a fighter by his trade and he carries the reminders of every glove that laid him down or cut him till he cried out in his anger and his shame, I am leaving, I am leaving, but the fighter still remains…" (Lyrics from the Boxer, by Paul Simon)
Some people wear their occupations on their sleeve as badges of honor or hearts of gold indelibly tattooed on their souls proudly exposed for the world to see. Policemen, fireman and teachers are prime examples of professions where the person lives it as a lifestyle 24 hours a day. Boxers are from a curious ilk, some follow this right wing dichotomy while other gents like Daniel Jacobs for instance blend into their surroundings with grace and ease never allowing the scars to show unless interviewed, electing to enjoy the passions of family life and its virtues instead.
Enter Michael Dokes; a heavily muscled, wily kid with a flair for the dramatic and lust for attention. He wore a black derby aloft his 6'3" frame much like his hero Jack Johnson and wore the properly selected full length mink coats of the Don King era of shameless self-promotion.
Underneath though Mike was bathed in gym sweat never escaping his arduous incline to the throne and yet rarely immersed himself in training deep enough to truly separate himself from the pack. For years media focused on his potential as heir apparent to Larry Holmes rein while fans waited on baited breath for the lofty expectations to kick in. Yet his hands were of such blazing combinations they set opponents defenses on fire but it was apparent that his moniker of "Dynamite" didn't live up to its aspirations much like the crucial bouts of his career. Nonetheless Dokes sauntered through life as vicariously as his ring entrances where he often blew kisses to lovely maidens ringside while gently tossing them long stem roses from the crook of his arm.
You never read about boxers born with a silver spoon willing to pass on an Ivy League education to risk life and limb in pursuit of fame and glory because that simply doesn't exist. Boxing has always been a poor man's out, and Dokes was no different born in the industrial city of Akron Ohio. Underage at fifteen in 1974 Mike was quick to make his presence known in the amateur ranks and entered the golden gloves where he made it to the finals. The same year he lost the final to Leon Spinks in the National AAU tournament. The following year Dokes was National AAU champion, and in '76 he was crowned National Golden Gloves Heavyweight Champion having bested future world champions John Tate and Greg Page.
Dokes won a Silver Medal at the Pam Am Games having been beaten by world renowned Teofilo Stevenson and a close decision loss to John Tate at the Olympic trials which prompted him to turn pro that fall. He was invited to do a nationally televised sparring secession with living icon Muhammad Ali which might just have been a precursor in the tea leaves that jinxed his entire career. Ali was out of shape and simply clowned and mugged for the cameras making Dokes look inept and out of his league.
Based on his talent quota the kid was projected to launch his career like a missile through the rankings but as metaphors go was more Challenger Space Shuttle than Apollo 11. His first seventeen fights he chugged along rather than steam roll his opponents. In that mix of fighters were recent victims Lucien Rodriguez and the savvy Jimmy Young who both heard the score cards read. His next bout was a highly disputed draw against Osvaldo Ocasio which appeared very generous to Dokes and left boxing pundits wondering aloud if they had seriously misjudged the rising contender. Mike would shrug off the doubters with a first round TKO in the rematch making the draw just a blimp on the radar. Two fights later and he took on granite chinned Randal "Tex" Cobb in a crucial contender match- up where he won a MD. Cobb made Michael fight "his" fight so all the hand speed in the world proved there was something otherwise special lacking in his game.
Lurking beside him in the rankings were Greg Page who was thought to have the acumen of Ali, if not the physique and "Gentleman" Gerry Cooney the giant from Long Island who had a crippling wrecking ball for a left hook. Oddly as the years eclipsed all three were protected to some extent and the trilogy of matches that fans yearned for never materialized. Dokes would add five more wins before getting a title shot against Mike Weaver. The wins were over mere journeymen not contenders. While his star continued to rise steadily there was a plethora of name contenders that never appeared on his record that spanned twenty one years.
On December 10, 1982 Dokes was given a title shot by blue collar champion Mike Weaver who literally fought his way to the top from smokers to world champion the old school way; he earned it. Unbeknownst to either Michael the fix was in as referee Joey Curtis bet the fight wouldn't go one round and pulled the plug first chance the opportunity presented itself. (Check out Ringside Report's Vinny's Views: Interview with Mike Weaver: A Champion with Heart, Class, and Great memories, circa Oct.10, 2016, where Weaver opened up for first time revealing perhaps the second worst stoppage in the annals of boxing.) Dokes was known as a fast starter juxtaposed to Weaver having a penchant for abnormal patience looking for an opening to drop a counter bomb.
The challenger jumped on the champion early with fast flurries and one sneaky hook caught Weaver flush on jaw and he went down. He rose on one count and was steady as a rock. Bout continued. Pace continued but the champion's defense was tighter as he was looking for an opening for his patented counter punch. Nothing was getting through but inexplicably Curtis separated the fighters which the world thought was merely a break, but then astonishingly rose Dokes hand in victory. The live crowd at Caesars Palace chanted a nonstop chorus of "Bullshit!" throughout the post-fight interviews which were captured on live TV.
When the crowd got bored, they switched the song to "Don King sucks!" The pressure the news media put on the horrific nonsensical stoppage forced the WBA to investigate where they were appalled enough to order an immediate rematch. Dokes cared little of the credibility of his tainted achievement and later bragged he bathed in a twenty thousand dollar victory bath of Dom Perignon.
At this point the long awaited "high life" that he lusted for since his teen years had finally come to fruition. Unfortunately, he was celebrating more than training, dancing night's away in clubs and admittedly self-indulging in cocaine and too much drinking. Dokes claimed the counterproductive behavior stemmed from dissention and jealous in his own camp as well as being in Don King's over loaded monopolized stable where he had unconditional control of the heavyweight division.
In the rematch the world witnessed the very best Michael Dokes to ever grace a ring, and the same could be said of Mike Weaver. Both men waged war at an incredible pace for fifteen rounds and neither man faltered. Sadly the judges were so enraptured by the action it was ruled a draw once again denying Weaver his beloved title. Harold Lederman and Larry Hazzard scored the bout even. Judge Jerry Roth gave Dokes a four point lead. Fans ringside again booed the decision. Most felt if anyone ran away with a four round lead it was Mike Weaver. Neither fighter would ever be the same.
If naysayers ever questioned the validity of Dokes title reign karma was about to step in and raise its ugly head removing all doubts in his second defense against South Africa's Gerrie Coetzee. That night his swagger would be permantantly removed by three perfectly measured right hands that produced the ten count in the tenth round. Gerrie had previously been knocked out by Mike Weaver in the thirteenth round of Weaver's first defense as well as losing a fifteen round decision to John Tate for Muhammad Ali's vacated title. The ultimate indignation came by way of his promoter who stepped over the semi-conscious Dokes on the canvas to congratulate and usher in the new era of Coetzee.
The pendulum quickly began swinging towards the declivity of bankruptcy and big money matches evaporated. Dokes life became a nightmarish version of "Requiem for a Heavyweight" times ten being mired in all forms of substance abuse. The gangsters, leeches, and hanger-on's who helped bleed him dry pulled him further into their jealous cesspool. Dokes was drowning in back taxes and ventured to the Cleveland mansion of Don King for a loan to bail him temporarily from IRS. King exclaimed in his customary fashion to all his protégés that he had no capital to lend thus being the final straw to break the camel's back.
Dokes who viewed King as a patriarchal figure started to entertain thoughts of suicide to end the pain. Of note, King's entire stable of heavyweights during the 80's publicly exclaimed they were ripped off and/or mismanaged under his promotional banner.
Michael knew going in that longevity is rarely a friend to a boxer and envisioned himself making a handful of defenses and getting out of the game to invest in real estate and starting a clothes line. He was now in the unenviable and precarious situation of being a house hold name that had to restart from ten past zero. Mike would bravely battle on through the hazy fog to reestablish credibility in order to rebuild financial security.
Three comeback fights including a TD 4 over old rival Tex Cobb and Michael would take almost three years off to enter rehab and get clean while finding religion to exorcise the demons he called friends. He would comeback once again driven to win by mounting another eight, but the win streak including still useful James Pritchard before facing Evander Holyfield who was two fights into his ascension to the heavyweight title. Mike was much thicker by now around neck, chest and torso but his style remained the same. Surprisingly it was a very competitive bout that could have gone either way until Vander turned up the heat at half way point of tenth in scheduled 12 rounder producing the dreaded TKO. The heavy gym work showed amid the quiet whispers that Mike still dabbled in indulgences. He ran off another four bout win streak before being the main event status again paired with once beaten Donovan "Razor" Ruddock at MSG.
Dokes wisely fought inside the pocket trying to smother the heavier shots of his longer reach foe. For three rounds it was a highly competitive fight although at ringside I could tell Mike ate a couple of stiff right hands that buckled his knees and took steam out of his own arsenal. In the fourth round Mike wasn't letting his hands go with enough frequency from a turtle shell defense and Donovan unleashed a trilogy of what he nicknamed the "smash," a hybrid uppercut that started a sneaky genesis from the outside hip but when it raised to mid thorax he it morphed into an auspicious right angle hook which turned Dokes into road kill in its wake.
From four rows back I was out of my seat standing when the first landed with a sickening bone breaking crescendo. The follow up allowed Ruddock to dip his shoulder into position for better leverage as Mike was standing prone but out on his feet when it landed. The coup de gras came in the form of a more traditional short left hook that deposited Michael face first on the canvas. If ever there were a swan song to be so sung, Madison Square Garden should have blared "My Way" by Frank Sinatra.
Fortunes were writ and squandered as the hour glass of his career was long running on empty but Mike refused to acknowledge his boxing eulogy be written. Having beaten the coma of drug abuse he would once again awaken from the slumber of the Ruddock destruction and mount a nine bout winning streak that included wins over journeymen Jose Ribalta and Jesse Ferguson who themselves fought past their expiration dates.
Enter Riddick Bowe, the Rock Newman protected paper champion who gave up his WBC belt rather than man up and face his Olympic conqueror Lennox Lewis enabling Michael a retirement payday. With no pride whatsoever Bowe acted as if he was doing the world a favor and dispatched the cartoonish bloated version of Dokes before the opening stanza ended. Mike regaled reporters saying he trained on Linguini with white clam sauce through what was now a slower "drawl" then remembered. He would take a year off and then finish his ledger with a five bout run over names you never heard of going 3-2, 2 KO's being stopped by TKO 2 in his final bout. His record filled with mediocrity still finished at a respectable 53-6-2, 33 KO's.
From there the madness of retirement set in like an over loaded freight train pulling into the station with no brakes. Every evil that ever haunted him manifested like apparitions from a child's nightmare. Dokes returned to heavy cocaine abuse and reckless drinking to medicate his pain and silence his conscience's demons for the lowly ignominious levels it sank to after a quarter century had passed from its lofty inaugurations of a "can't miss" prospect.
When the gyms went silent from his much respected jovial ways it was assumed Mike was put out to stud much like a prized race horse that no longer could compete. Most of the boxing news feeds reported little more than a line or two about his being arrested on cocaine trafficking and his two years' probation. Dokes would explain away his blunder as a massive addiction to the white powder which police thought the extraordinary amount wasn't for personal consumption. In 1999 Michael was sentenced to 4 to 15 years in state penitentiary for heinous attack of attempted murder and sexual assault upon his fiancé the previous year. On the witness stand she said Michael was a good person when he wasn't on drugs which was half of the decade they spent together. Michael was quoted to say, "I am remorseful. There are no excuses for my actions. I love that woman with all my heart. I truly wanted to spend the rest of my life with her as husband and wife." Nine years later in 2008 he would be paroled as a clean and sober, broken man.
On August 11, 2012, a gaunt Dokes succumbed to liver cancer at an Akron hospice one day after commemorating his 54th birthday. Curiously more than a handful of his contemporaries passed long before middle age set in including; Jimmy Young, Tommy "The Duke" Morrison, Carl "The Truth" Williams, "Big" John Tate, Corrie Saunders, James "Broad Ax" Broad, Trevor Berbick, Greg Page, and Alex the "Destroyer" Stewart. With all things being equal and so very much to ponder, perhaps this his last quote, "I found out once you fly past the clouds you don't see Angels" makes his best epitaph.
Stay tuned…
Contact the Feature Writers