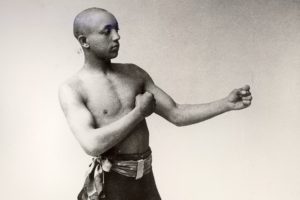 By Brian "The Beret" Young
Welcome back boxing fans. February in the United States of America is Black History Month, so I would like to dedicate my column to that very subject. I plan on some history articles, some observations and opinions by others, possibly an interview and maybe even a special article written by someone else. I hope you find these interesting, uplifting and educational and I would appreciate any and all feedback from you the fans.
Race in sports is a sensitive subject and always has been. Sadly, to this day it exists, from racial slurs uttered on the field to strong and often hateful remarks expressed by some over the likes of Colin Kaepernick's protest. It's true that sports are no longer segregated, however it's also true that racism is still a reality.
I am going to take us back to a time before professional sports were integrated. And show how in fact integration was a slow process but our beloved sport of boxing was out in front as the first sport to allow black and whites to compete against one and other.
It was 1904 when George Poage became the first black athlete to win an Olympic medal for North America (winning bronze in both the 200 and 400 meter hurdles). 1917 when Lucy Diggs Slowe won the ATA women's tennis single title, becoming the first black tennis champion and the first black woman to win a major sports title. It wasn't until 1920 that Fritz Pollard and Bobby Marshal. l were the first black players in the NFL and it wasn't until 1929 that WNJR in Newark New Jersey hired Sherman Maxwell as the first black sports broadcaster. It was 1950 before the NBA integrated, 1957 when Charles Sifford become the first black man to play a PGA golf event and 1958 before Willie O'Ree was the first black player in the NHL. But boxing Had its first black champion back in 1890.
Born July 29th 1870 in Halifax Nova Scotia Canada George "Little Chocolate" Dixon was only 5'3 and weighed a mere 87 pounds when he turned pro. By the age of 18 he had grown into a Bantamweight (barley) and was a ranked fighter. On May 31st 1881 the young Canadian was given a title shot against New York's Tommy "Spider" Kelly. The fight was officially called a draw but most observers and newspaper reports sided with Dixon. Newspapers declared "Little Chocolate" the new Bantamweight Champ and Dixon made it official June 27th 1890 when he knocked out England's Nunc Wallace in the 18th round, becoming not only the first Canadian world boxing champion, but also the first black world champion in the process. But Dixon wasn't finished establishing firsts. On May 31st 1891 Dixon faced Featherweight Champion Cal McCarthy. Despite weighing no more than 113 pounds by some accounts Dixon took the title in 22 rounds.
Dixon was no so popular he started his own Vaudeville troupe named "George Dixon Specialty Co." and toured throughout Canada and the United States drawing large crowds wherever he went. But Dixon was a fighter.
On October 4th 1897 Dixon put his Featherweight title on the line against Mexican-American Solly Smith, a man who Dixon had previously beaten by knockout. This time Smith was the better man and won the decision ending the 6-year reign of George Dixon. Incidentally, this made Smith the first World Champion of Hispanic descent. Dixon was next in line for a rematch against Smith, after Smith fought major underdog Dave Sullivan, but in the 5th round Smith broke his arm and the fight was stopped with Sullivan the new champ and now in Dixons sights and on November 11th 1898 Gorge Dixon reclaimed his Featherweight title via 10th Rd DQ.
There is some debate on when and to whom Dixon eventually lost his title too, some historians claim it was to Abe Atell in 1901 but it was more likely that he lost it to the legendary Terry McGovern on January 9th 1900, but either way this was the last time Dixon would be recognized as a world champion.
Dixon ended his ring career with a record of 73-30-55 with 6 no contests, 36 KO's. A Bantamweight and 3X Featherweight Champion of the world in an era when black men were not considered equal to white men.
George Dixon paved the way for Joe Gans (who in 1902 would become the first black world champion born in America) and of course Jack Johnson who in 1909 became the first black Heavyweight Champ. But in a larger sense, Dixon paved the way for George Poage, Lucy Diggs Slowe, Fritz Pollard and Bobby Marshal, Sherman Maxwell, Charles Sifford, Willie O'Ree and every black athlete to come after him. In downtown Halifax, there is a recreation center named after him, but in my opinion, I feel the world should honor trailblazer. George Dixon was a fighter; his goal was to win a world title nothing more. But George did more, far more, George Dixon changed the world for the better.
Remember to submit your questions/comments to me via the form box below by selecting Brian "The Beret" Young and follow me on Twitter @BoxingGuyBrian.
Contact the Feature Writers