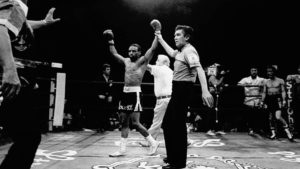 By Vinny "Glory Days" Lucci
"In the clearing stands a boxer and a fighter by his trade, and he carries the reminders of every glove that laid him down or cut him till he cried out in his anger and his shame, I am leaving, I am leaving, but the fighter still remains…" Lyrics from "The Boxer" by Simon and Garfunkel.
Dropping hammers for the ten counts as boxing brethren wave goodbye to fallen hero Rocky Lockridge as the ring bell echoes into the abyss. Rocky passed away Thursday morning February 7th, after he was taken off life support one week ago under hospice care. The former champion had fallen into desperate health issues following the New Year as Lockridge recently suffered two strokes as well as contracting pneumonia.
His son Rick confirmed his Dad's passing at 60 years of age saying, "God has called him to walk through the Gates of Heaven." Let that be so, Ringside Report hopes he is greeted by his old manager and trainer Lou Duva who passed away two years ago.
Rocky was born in Tacoma Washington and would join up with Duva's promotional outfit Main Events which focused on a group of upcoming stars known as "Tomorrow's Champions."
The orthodox American super featherweight finished off a storied career with a 44-9, 36 KO's ledger having faced every viable name star of his era including Eusebio Pedroza, Cornelius Boza Edwards, Tae Jin Moon, Julio Cesar Chavez, Harold Knight, Rafael Ruelas, Wilfredo Gomez, Sharmba Mitchell, Tony Lopez, Juan LaPorte and Roger Mayweather.
It was the Mayweather fight that truly brought Lockridge into national prominence as he took out the WBA super featherweight champion in 98 seconds of the first round with a stunning one punch knockout with a perfectly timed right hand back in 1984.
Rocky went on to defend the title successfully three times before facing icon Wilfredo Gomez at Colisemo Roberto Clemente in San Juan where he lost by MD in one of the worst boxing decision robberies of the last fifty years. Lockridge would box and brawl and negate the super stars power punches all night making him look ordinary.
Twenty years ago Rocky fell on hard times becoming broke and homeless. He encountered the nightmarish world of drug addiction and suffered his first stroke which forced him to walk with a cane.
Rocky again came into public consciousness when he appeared on the seventh season of A&E's Intervention when forced on camera to deal with his drug addiction while his son Lamar exclaimed through tears that he still loved his Dad. The former champion recaptured the world's heart by responding to his son in a spine tingling shrill of a cry.
Before totally falling off the public radar Rocky was caught on a cell phone video some years back making "YouTube" history dressed dapper and minding his own business at a strip mall near a bodega when approached by an unruly drunk who couldn't resist taunting the champ thinking he was washed up. Lockridge tried in vain for thirty seconds to casually walk away until the persistent jackass got in his face. Rocky struck quick as lightning in mid-taunt producing his final KO landing a one/two combo to his oppressor's chin putting his man down and into the twilight zone of blackness and floating algebraic equations.
It's been duly noted that Rocky turned his life around and had been clean and sober since 2009.
Ringside Report would like to wish the extended Lockridge family its deepest condolences and respect.
Rest in peace champ, you earned it the hard way.
Contact the Feature Writers