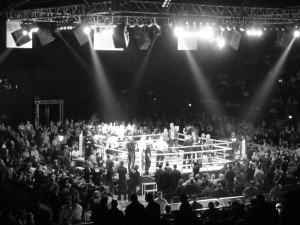 By Vinny "Glory Days" Lucci
With many intriguing matchups signed and waiting to unfold there is always time to scrutinize the boxing calendar to evaluate which of those events need to be handicapped with introspection. In between the bravado and disapproval of the bouts that already graced the arenas and flat screens I have to slam on the brakes once in a while to evoke the voice of the people whose only forum is internet threads.
With that being said, recent memory has launched a stock pile of bad decisions that hamper logical thinking as well as camouflage the preponderance of bad score cards that go unquestioned. When the stench is so bad or the outcry for justice so loud, the alphabets simply conduct a secret behind closed doors investigation and claim no wrong doing, but magically announce an immediate rematch. The hose down puts an immediate quell to the disruptive chaos so they can return to business as usual.
This satisfies the thrill seekers who crave more action but what about the fans hard earned money for these ridiculously priced PPV's who feel cheated and used? Not only is half the fan base upset but what about the now official duplicity and treacherous backstabbing of deceit perpetrated on one boxer's livelihood? What about the horrendous damage to their reputation as their official ledger takes a loss and proverbial knife wound? This affects all aspects of a fighter's career when a bad decision topples a champion from his throne and upsets the balance of his earning potential or prevents a challenger from proper ascendance to the hierarchy he earned with blood, sweat and tears.
Since the adaptation of the Marquees of Queensbury rules established in 1867 we have waited on baited breath for the logical national commission to govern over all aspects of the game like every other sport. For every wishful nominee like Eddie Mustafa Muhammad or Teddy Atlas to head such an organization for the betterment of the sport we have literally a thousand obstacles with private agendas who do not wish to see any reform as it will hinder and impede their own personal growth in the guise of bank accounts.
Every Alphabet organization, every promoter, every trainer, every hosting venue as well as every cable distributor sees the sport of boxing as a business enterprise and wish to keep the game as "business as usual."
So where do we go from here in a world divided in quarters as far as champions go and the top ten now literally means, top 40! How can such a richly divergent oasis of graft that unscrupulously lines the pockets of these groups go unchallenged for so long and what can boxers do to navigate the political corruption that plagues the sport?
Here is a simple solution to an age old question, "Hold the judges accountable for their reprehensible culpability."
Every judge has sixty seconds between rounds same as the fighters. They should be forced to jot down a few notes in allotted space why their belief fighter "A" beat fighter "B" in every single round instead of looking for alibis or excuses to award rounds to boxers who clearly did not deserve the 10/9 distinction. Those results should be opened to media and scrutinized by fans as to the inept thought process that took place. Once at that precipice those judges coming under condemnation would be forced to defend a submitted scorecard that could have been better handled by Stevie Wonder.
Suspensions should be in order for the truly audacious and insolent intolerance to justice. Judges that submit the worst infractions of clear bigotry in scoring should endure the more serious of suspensions that could be applied all the way to revocation of license.
Need I bring a head to chopping block to illustrate my point? Start with one Adelaide Byrd who had a history of controversial decisions making her contentious scorecard of 118-110 for Canelo Alvarez against Gennady Golovkin (9-16-2017, T-Mobile Arena) beyond the realm of questionable forcing even the most casual of fan to ask if she has any concept on how to do her "job" competently.
For newer revelations we witnessed a passive Anthony Harrison usurp Jermell Charlo's WBC Junior Middleweight title last December forcing an automatic rematch. This year we already saw Manny Pacquiao shut out Adrien Broner only to have Broner raise a public temper tantrum that he wasn't awarded the decision. AB, as he is known to his fans should get on bended knees to thank the terribly misguided judges who awarded him any rounds of consolation. Broner failed to land more than 8 punches in any of the 12 round contest while Pacquiao snow stormed his way to victory.
Last week Sergey Kovalev raised the bar on his boxing generalship and once again regained his WBO Light heavyweight strap from one time conqueror Eleider Álvarez as he painted him with constant jabs and straight right hands round after round while the champion walked forward eating combination after combination from turtle defense never once offering a solution to the hornet's nest that buzzed his title belt off him in a nonstop twelve round assault. Yet, two judges had the temerity to award Alvarez four rounds while defying all logic to what just transpired.
So, let Ringside Report be the voice of the fans who don't have the forum to ask, "What the hell are these judges watching and looking for?"
Ok, you get the point. The concept that a fighter has to win by knockout to avoid a royal screwing is sheer bullshit and its time we put pressure on the state commissions who hire the judges to hold them to the same standards we expect from the gents who risk their lives for our entertainment.
Stay tuned…
Contact the Feature Writers