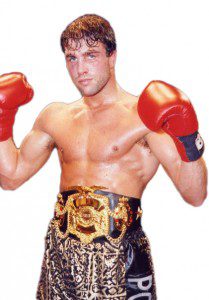 By Donald "Braveheart" Stewart
The bald facts are that Shaun Cummins, 22-6-1, 14 KO's was born in Leicester in 1968. He boxed as an amateur at the Belgrave Amateur Boxing Club in his home before turning professional in 1986. In 1992 he fought and won the WBA inter continental super welterweight title, defended it and in 1995, in his last professional fight, he lost a British title fight, having lost a European title fight prior to this.
He was forced to retire, apparently, as he failed a routine brain scan after his last fight.
Not a stunning record, not a massive presence on the boxing scene at the time … but…
His post fight career, where he was a body builder, a debt collector and a bodyguard for the Blue star, Lee Ryan brought some compensation, even notoriety.
A 6 month prison sentence for racially abusing a doctor in July 1997 brought further negative press.
In 2004, a motorcycle accident brought a cut on his backside which led to an infection and meant he ended up paralyzed from the chest down, needing constant care and attention. Ironically the accident that saw him bed bound was not his fault – not what the rest of his career would have pointed towards.
So far a tragic tale.
On the 12th September 2012, he was found dead and in bits.
Literally. In bits.
His body had been dismembered and his unpaid carer, a man by the name of Thomas Dunkley was soon after arrested and charged with his murder.
Dunkley had killed Cummins, then used his credit cards – the accident had brought a £400,000 settlement – and gone on a £26,000 spending spree. According to the trial, the approximate date of Cummins' death had allowed Dunkley to have 11 days of spending freedom. The tools of the dismemberment were bought by Dunkley using the credit card he stole from Cummins.
The trial gave us a sentence of life for the killer and grizzly details of how Cummins came to an end. The contention by Dunkley that he panicked into mutilating and hiding the body because Cummins died of natural causes cut no ice with the jury, judge or public opinion. His suggestion that Cummins had been an unpleasant patient was also refused as mitigation. His personal debt was what ended up being the trigger for his spree – the murder and the spending.
It is unfortunately the story that the majority would like to read – but we have a better story to tell…
Carrying the well earned nickname, "The Guv'nor" Cummins' life and subsequent death has attracted a lot of attention because of how that life ended. It's a shame and perhaps because we tend to look the other way when boxers complete their professional career, we tend to forget or alternatively, just not remember them.
1994, one night in San Remo, Italy, Agostino Cardomme was in the opposite corner. It was a fight for the European middleweight title. It started to look like Cummins, never a man touted as being a title contender – he had lost a Midlands Area title in 1990, though the WBA title wins against Steve Foster in 1992 and Mickey Hughes the following year clearly got him his shot – might just upset everyone when he sent Cardomme to the floor.
Cummins was to tell the Independent's Steve Bunce in 2010, "I hit him with the left hook, but sadly the right missed as he was going down." It was a count that was more likely to be timed by a calendar than a stop watch as the local favorite cleared his head and then retained his title.
Cummins was philosophical about it, but it would have brought him glory that would or could have meant he was doing more than just fighting for scraps towards the tail end of his career.
It could have been oh so different as Cummins had been offered a world title fight as he revealed in that 2010 interview; he was offered the opportunity to take on Steve Collins. In typical bullish fashion he also told Steve Bunce from that bed in which he was stuck, "I would have beaten Collins. It never happened and I went off to Italy. I was foolish back then."
Throughout his life it was well rumored that Cummins was a hard man to deal with and a tougher one to get to like. The boxing business breed them hard and when he got out the ring his image never softened. He gave his all to the reputation for only to end up with a barrel load of regrets and apologies given out.
One thing for which he need never apologize is his final fight. That night in Derby when he got into a bloody scrap with Neville Brown for the British title was the type of fight most people tell tales about being in the splatter even if they never got near the hallway. It ended in the 5th but the resulting stoppage of his career, inside and outside the ring saw him balloon in weight as he body built and get into more serious scrapes than any local brawl that brought the curtain down on his career professionally.
Post fight careers can often define the people who risked their all for our entertainment. There are stories, Steve Bunce in BBC Radio recently was musing on them, of former fighters scraping a living after the fighting stopped. We aint good at looking after each other and perhaps had the Guv'nor had better support from the other Guv'nors it might have been a different tale to tell…
Contact the Feature Writers