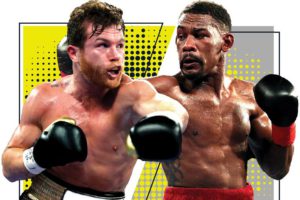 By Tyler "The Miracle Man" White
Back in 2017, the day before the Canelo Vs Chavez, JR. fight, I met Daniel Jacobs who said that he was hoping to fight the winner of that fight – unfortunately for him, what became evident after Canelo's decision win was that Golden Boy Promotions had already struck a deal with "GGG" behind the scenes and not long after Canelo's hand was raised, the first fight with Golovkin was announced.
Daniel Jacobs was left without the fight that he'd hoped for that night, whilst also being denied the opportunity of a rematch with Golovkin after a close fight with him a couple of months beforehand.
However, for the "Miracle Man", time has come good as he's picked himself up the IBF middleweight strap in the meantime which has put him on a collision course with Canelo at long last and he will get his chance to try and upset the odds.
How do I think this fight will turn out?
Well, my heart says that Jacobs will get the win, whilst my head says Canelo!
Clearly, Jacobs is one of my favorite personalities in the sport as he's such a huge role model to me, so my heart really wants him to upset the odds and get the win.
However, I don't just think he has a good chance because I idolise him so much, but I think he will be so motivated for the fight against Canelo that it'll make him a very dangerous opponent.
Seeing Jacobs in the ring ready to take on "GGG" was incredible, the amount of focus and self-belief he had was awe inspiring and I think we're likely to see the same kind of Danny Jacobs in the ring against Canelo, because this time there are multiple titles on the line and there's also the chance to rewrite the history books!
Going on recent form however, there's no denying that Canelo has looked incredibly impressive and the fact that he also moved up in weight and easily dispatched of Rocky Fielding just adds more weight to the argument that the Mexican will get the win against Jacobs.
Canelo has the whole world of boxing behind him, near enough, and with that sort of momentum it's very hard to see him losing a fight!
If it goes to points, Canelo will clearly get the win, even if Jacobs makes it hard for him. The only way that Jacobs can win, in my eyes, is to really take it to Canelo and somehow get him out of there within the distance…
That's a lot easier said than done though, due to Canelo's World class counterpunching, as well as both his durability and toughness.
Canelo Vs Jacobs is a fight I'm certainly looking forward to seeing and as I said before, my heart really hopes that Jacobs can somehow get the win, but Canelo is a strong favorite going into this one being the hottest ticket in the sport right now!
Check out Tyler "The Miracle Man" White who is part of the podcast show called "British Boxing Talk" on Apple Podcasts and Spotify</
Contact the Feature Writers