[AdSense-A]

Loading ...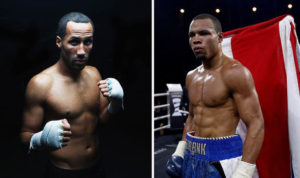 By Tyler "The Miracle Man" White
February 23rd see's an exciting British Super Middleweight fight – DeGale Vs Eubank, JR. – at the O2 Arena in London.
This fight is headlining ITV's first Pay-Per-View event of the year, however, the undercard looking to be supporting the show is underwhelming to say the least…
The main event however, could be an entertaining clash of styles and one that has come at two vastly different points in each respective fighters' careers.
DeGale has been very vocal in calling this contest his "retirement fight", whilst Eubank has expressed that this is just another fight on his conquest to the top.
Regardless of what stage either fighter is at in their career, stylistically this bout is one that could be very interesting and entertaining.
You can never underestimate "Chunky" James DeGale due to his boxing pedigree and his skill at the highest level both as an amateur and a professional, whilst the same can be said for Eubank, JR. not in terms of skill or pedigree, but in terms of heart, work ethic and his bloody mindset.
This fight is a weird one from the eyes of the British public, because both fighters probably haven't got the respect that they truthfully deserve…
DeGale is without a doubt, one of Britain's most underrated fighters and always has been throughout his career – an Olympic Gold Medalist and former 2x IBF World Champion – the man has beaten fighters such as Andre Dirrell and Lucian Bute whilst also surviving an absolute war with Badou Jack back in 2017.
Eubank, JR. on the other hand may not be one of Britain's most technically flawless fighters, but the fact of the matter is that he has been a great entertainer despite the massive pressure of his father's name resting upon his shoulders. Although the IBO title may not garner much respect in a lot of people's eyes, Eubank won the IBO title back in 2017 and has since gone on to defeat the unbelievably tough Arthur Abraham and also entered the World Boxing Super Series, going the full 12 rounds with George Groves.
Both fighters will not only be fighting to secure their legacy and to potentially secure bigger fights in the future, but they'll also be fighting to try and win over the British public.
As I mentioned before, both fighters have never really gained the credibility and respect that they probably deserve from the British public, whether that be because of their attitudes or due to their lack of exposure; so hopefully this fight and this event can help them each get the credibility and respect they deserve!
In terms of predictions, I think DeGale will get the win – I think his experience, movement and boxing pedigree will be too much for Eubank.
Eubank, JR. has always seemed to struggle against guys that can move well and box at long range; so unless there's been a huge change in his camp this time around I can't see him beating DeGale.
I'd really like DeGale to get the win as well just to end his career on a positive note and hopefully help him get a bit more recognition for all that he's done in the sport of boxing, because he's definitely an underrated and under appreciated fighter over here in the UK.
Similarly though, I'd like to see Chris Eubank, JR. prove me wrong and show the World a brand new style that demonstrates his boxing IQ and ability…
A style that allows him to compete at a higher level and therefore will allow him to secure some big fights so that he can push on and try to reach that World class band of fighters!
To summarize, I'm not particularly fussed as to who gets the win, I just hope to see a good fight – I predict that DeGale will outpoint Eubank, JR. but I wouldn't be disappointed if I'm proved wrong either.
Check out Tyler "The Miracle Man" White who is part of the podcast show called "British Boxing Talk" on Apple Podcasts and Spotify</
Contact the Feature Writers