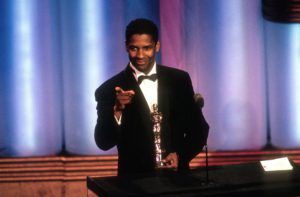 By Geoffrey Huchel
When we think of leading men, it would be hard to imagine Denzel Washington not being included in that category. The accomplished actor has built a remarkable and multifaceted career spanning nearly five decades, starring in some of the biggest movies in film history, while also achieving success as a producer and director.
The New York native earned a BA in Drama and Journalism from Fordham University in 1977. Washington's earliest work was spent during the summer of 1976 in St. Mary's City, Maryland, in summer stock theatre. Shortly after graduating from Fordham, Washington made his screen debut in the made for television film WILMA (1977), with Cicely Tyson. It wasn't long before Washington made the jump to films. He was featured in the comedy CARBON COPY (1981), starring George Segal, the dramas POWER (1986), with Richard Gere, Gene Hackman and Julie Christie, and CRY FREEDOM (1987), starring Kevin Kline.
Washington was cast as Dr. Phillip Chandler on the popular hospital drama ST. ELSEWHERE, which ran from 1982-1988. Washington remained with the show throughout its entire run. Following the end of the series, Washington starred in the crime dramas FOR QUEEN & COUNTRY (1988) and THE MIGHTY QUINN (1989), and was cast in the powerful Oscar nominated historical drama GLORY (1989), where he portrayed Pvt. Trip, a defiant, self-possessed ex-slave solider.
Washington won his first Academy Award for Best Supporting Actor for his performance. The following year Washington starred in Spike Lee's MO' BETTER BLUES (1990), as Jazz trumpeter Bleek Gilliam, starring opposite Wesley Snipes and Spike Lee, plus HEART CONDITION, RICOCHET and MISSISSIPPI MASALA (1991). Washington and Spike Lee reunited for Lee's biographical drama MALCOLM X (1992), also starring Angela Bassett and Delroy Lindo. His portrayal of the Black Nationalist leader earned him nominations for a Golden Globe for Best Performance by an Actor in a Motion Picture and an Academy Award for Best Actor in a Leading Role.
Washington costarred opposite Julia Roberts in the drama THE PELICAN BRIEF (1993) and Tom Hanks in the drama PHILADELPHIA (1993), where Washington portrayed small time lawyer Joe Miller, who represents Tom Hank's Andrew Beckett, a man with HIV who was fired from his law firm. He was cast in the critically acclaimed and Golden Globe nominated MUCH ADO ABOUT NOTHING (1993). The all-star cast included Kenneth Branagh, Emma Thompson, Keanu Reeves, Michael Keaton and Kate Beckinsale. Washington turned in performances in three movies in 1995- VIRTUOSITY with Russell Crowe, DEVIL IN A BLUE DRESS, with Tom Sizemore, Jennifer Beals and Don Cheadle, and the Oscar nominated CRIMSON TIDE, with Gene Hackman and James Gandolfini.
A year later Washington starred as Dudley, an angel sent to Earth to help a preacher save his church and family. The film also starred Whitney Houston and Courtney B. Vance. He delivered a memorable performance in his next film, COURAGE UNDER FIRE (1996) where he portrayed U.S. Army official Nat Sterling.
Washington starred opposite Meg Ryan and Matt Damon. Washington turned in an Oscar nominated performance for the biographical drama THE HURRICANE, (1999), as Rubin "Hurricane" Carter, a boxer who was wrongfully accused for murder, and the people who aided in his fight to prove his innocence. Washington did not win the Oscar, however he won a Golden Globe for his performance. The same year he starred in the crime drama THE BONE COLLECTOR, playing a quadriplegic ex-homicide detective who tries to track down a serial killer with the help of his female partner, played by Angelina Jolie.
Throughout the 2000s Washington appeared in some of his most memorable films, such as REMEMBER THE TITANS (2000). Based on a true story, he played a newly appointed African-American coach and his high school team on their first season as a racially integrated unit. In addition, Washington starred in the crime drama TRAINING DAY (2001), starring opposite Ethan Hawke. He won his second Academy Award for his performance as Alonzo Harris, a decorated police narcotics officer.
His next role was as John Quincy Archibald, who takes a hospital hostage when his insurance won't cover his son's heart transplant in the drama JOHN Q (2002). Washington's commanding performance as a father desperate to save his son has become one of his most popular roles. The movie also starred Robert Duvall, Kimberly Elise and Anne Heche.
Washington starred, produced and directed his next film, ANTWONE FISHER (2002). The biographical drama is based on the real life story of Antwone Fisher, a Navy man who is forced to see a psychiatrist after a violent outburst against a fellow crewman, and while through treatment, a painful past is revealed and new hope begins. This was a triumph for Washington as the movie garnered rave reviews and won several awards.
Washington starred in the drama THE MANCHURIAN CANDIDATE (2004), a remake of the 1962 film starring Frank Sinatra. Washington plays war veteran Major Bennett Marco. The all star cast includes Meryl Streep, Liev Schreiber, Jeffrey Wright and Vera Farmiga. His next film was the crime drama MAN ON FIRE (2004), playing John Creasy, a former assassin who swears vengeance on those who committed an unspeakable act against the family he was hired to protect. Christopher Walken and Dakota Fanning costar. Washington reunited with director Spike Lee for the drama INSIDE MAN (2006), also starring Clive Owen and Jodie Foster. He returned to the director's chair for THE GREAT DEBATERS (2007), a biographical drama based on the true story of Melvin B. Tolson (played by Washington), a professor who challenged his students to form the school's first debate team, which went to challenge Harvard in the national championship.
He portrayed Frank Lucas in Ridley Scott's crime drama AMERICAN GANGSTER (2007) also starring Russell Crowe. His next film was the action thriller remake THE TAKING OF PELHAM (2009), with John Travolta, followed by UNSTOPPABLE (2010), with Chris Pine. In addition to starring in his next film, THE BOOK OF ELI (2010), he also served as producer. The film costarred Mila Kunis and Gary Oldman and received mixed reviews. In 2012, he starred in the action film SAFE HOUSE, with Ryan Reynolds, Robert Patrick and Vera Farmiga, and director Robert Zemeckis's thriller FLIGHT, costarring John Goodman and Don Cheadle. Washington was nominated for an Oscar for his performance as airline pilot Whip Whitaker.
In recent years he starred in 2 GUNS (2013), with Mark Wahlberg, THE EQUALIZER (2014), which he also produced, and THE MAGNIFICENT SEVEN (2016), with Chris Pratt and his TRAINING DAY costar Ethan Hawke. His next film would be one of the biggest of his career- FENCES (2016), based on the play by August Wilson.
In FENCES, Washington plays Troy Maxson, a working class African-American father who tries to raise his family in the 1950s, while coming to terms with the events of his life. Washington also directed and produced the film, which was nominated for an Academy Award for Best Picture. Washington himself earned another Academy Award nomination for Best Actor in a Leading Role. His costar, Viola Davis, won the Academy Award for Best Actress in a Leading Role for her portrayal of Maxson's wife Rose. This would be Washington and Davis' second time portraying these characters. Read below for more about that. Most recently, he reprised his EQUALIZER role of Robert McCall for THE EQUALIZER 2 (2018).
Washington returned to the theatre in the summer of 1990, appearing in the title role of the Public Theatre's production of Shakespeare's Richard III. In 2005, he appeared onstage again as Marcus Brutus in a Broadway production of Julius Caesar. In 2010, he played Troy Maxson , opposite Viola Davis in the Broadway revival of Fences, for which he won a Tony Award for Best Actor in a Play.
In addition to his Academy Award and Golden Globe wins, Washington received the esteemed Cecil B. DeMille Award at the 2016 Golden Globes for his recent work and contributions to the film industry.
Essential Washington:
GLORY (1989)
MALCOLM X (1992)
THE HURRICANE (1999)
TRAINING DAY (2001)
JOHN Q (2002)
FLIGHT (2012)
FENCES (2016)
Contact the Feature Writers