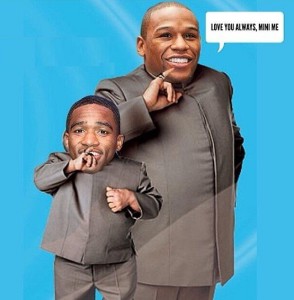 By Vinny "Glory Days" Lucci
When you lie to yourself there is always one person not listening. Well, perhaps Adrien Broner finally got the message. His self-imposed retirement loomed so unimportant it almost escaped all media attention this week as he is largely considered a washed up gate keeper who has fought better from behind a microphone than outfitted with eight once leather gloves. Adrien has tweeted up another verbal firestorm of injustices claiming the sport of boxing has forced his hand into retirement.
He could have done the world a huge favor and taken his tired act off the canvas years ago. The "fighter" has been going through the motions ever since Marcos "Chino" Maidana beat him from ring pillar to ring post back in 2013 and even had Broner acting out a low blow foul for referee Tony Weeks in hopes of winning on DQ instead of even attempting to live up to his self-proclaimed hype. What is mind boggling to ponder is that so many Broner fans bought into his bullshit con job while he continued to headline earning bails of street envy cash.
Having just been soundly beaten last month by forty year old Philippine sensation Manny Pacquiao who held Broner to landing no more than 8 punches in any round of the WBA welterweight title fight Broner has now proclaimed "I am now done with boxing and this fake ass business!" Well in a world of originals such as Manny Pacquiao, Mikey Garica, Errol Spence JR., Gennady Golovkin, Terence Crawford, Vasyl Lomachenko, Sergey Kovalov, and dozens of other boxers the only real fake ass has been Broner parading around in Floyd Mayweather, JR.'s shadow pretending to be the heir apparent.
The further revelations of the sum total of his life he revealed this deep philosophical axiom of self-introspection: "I will die a real nigga before I let any mother fucker fuck me over and play me!" Last time I checked, Showtime Boxing was placating his tired act for years with their expert team of boxing analysts declaring over and over this was his final shot and needed to let his hands go. Their boring coverage was as phony as the dreadful efforts that Broner exerted time and again claiming both redemption and robbery after each bad outing.
Normally when evaluating the talent of someone who has tweeted on social media as recently as last year he was contemplating suicide it would logically appear to be the wrong time to kick up sand and point fingers but let's face it. Broner who calls himself "The Problem" has been his own worst enemy starting with over valuing his talent and market value. While leaving behind a ledger of 33-4-1, 29 KO's it's his last seven fights that will define his career as he went a generous 3-3-1.
Calculating the added revenue of the 2019 Pacquiao fight Broner's net worth hovers at 9 million all stemming from the lucrative career he claims to be leaving behind. With five young and impressionable children at home his public decision making skills have perennially lacked logic or decorum.
The odds of him staying out of the fight game are as stacked against him as they would be in a Pacquiao rematch. The real "problem" is that Broner is facing serious jail time stemming from two separate arrests for sexual assault and battery in incidents he allegedly incurred last year.
As the boxing calendar gains momentum like a roulette wheel in mid spin it will be fascinating to handicap if former champion Adrien Broner craps out by years end or continues his popular high wire act hovering above certain declivity and self-preservation.
Stay tuned…
Contact the Feature Writers