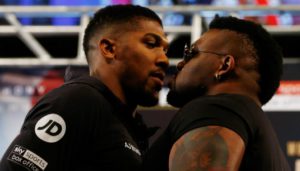 By Tyler "The Miracle Man" White
After the disappointment amongst fans upon hearing that "AJ" would defend his titles against "Big Baby" Miller, I was not at all surprised to see a commotion at the New York press conference.
Before announcing this fight, Joshua and his team would've known that fans weren't to be best pleased with this fight being made and so in order to drum up interest and to draw in the numbers, "beef" between the two fighters and animosity was almost guaranteed!
I wouldn't be surprised if we see a lot more of this in the build up to June 1st, whether it be pushing, shoving or just plain old name calling and "your mum" jokes…
There's no denying that animosity between fighters helps to sell a fight and I can already see that by Miller shoving Joshua about 50 yards across the room and from "AJ" cursing and promising to knock Miller out, a lot more people are talking about this fight in a positive light.
One thing that can be observed from the initial press conference and face off, is that despite being the shorter man, Miller will have the weight "advantage" and from the force of him shoving Joshua back we know that he's going to be physically strong.
However, will Miller be able to withstand the brutal punching power and simple; yet effective boxing skills of the WBA, IBF, IBO and WBO heavyweight World champion?
Expect more "beef" in the build up anyway and don't be surprised if there's another altercation – it sells tickets and it's entertaining to watch!
Check out Tyler "The Miracle Man" White who is part of the podcast show called "British Boxing Talk" on Apple Podcasts and Spotify</
Contact the Feature Writers