By Brian "The Beret" Young
"Boxing is egalitarian. In the ring, rank, age, color, and wealth are irrelevant."- Nelson Mandela.
As we continue with our honoring of Black History Month I would like to take another look at how our beloved sport often transcends sport and becomes something much more. There are those who claim boxing is an allegory of life itself, a symbol of something larger than sport. Wherein that is true, it is also a sport of brutal honesty, a sport of not only physical, but mental toughness. And it's in part boxing that helped, Nelson Mandela both physically and mentally survive his 28-year imprisonment, and to change his native South Africa once he was freed and became President.
In the 1930's, boxing was the biggest sport in the world, and a young South African Heavyweight college student named Nelson Mandela stepped into the ring for the first time. Inspired by then Heavyweight Champion of the World Joe Louis, the young law student took to boxing and its training and dedication. In his autobiography, Mandela states, "My main interest was in training; I found the rigorous exercise to be an excellent outlet for tension and stress. After a strenuous workout, I felt both mentally and physically lighter. It was a way of losing myself in something that was not the struggle. After an evening's workout I would wake up the next morning feeling strong and refreshed, ready to take up the fight again."
Mandela credited his boxing background as giving him the strength to be a revolutionary, and a leader fighting against a racist regime. A fight that would see him go on trial for treason in 1956 along with 155 others. He was acquitted on those charges and continued to fight until 1962 when he was arrested once again and would end up spending the next 28 years in prison. Once incarcerated, Mandela would also utilize the mental toughness and training he received from boxing to help him survive prison life day to day. Also from his 1994 autobiography "Long Walk To Freedom" Mandela explains how he used the metaphor of boxing to help him in his daily life behind bars, "The first bell rings at 6 a.m. [and] means it is time to get up, make my 'bed' and clean my cell …"
During Mandela's years behind bars, a young brash African American Heavyweight burst onto the scene telling the world how pretty he was, and how he was the greatest. Cassius Marcellus Clay, later Muhammad Ali, helped lead a revolt in his own way by standing up for his core beliefs, risking jail himself, and being an outspoken activist. Ali gave voice to millions who could not speak for themselves, including Nelson Mandela. Mandela never got to see Ali fight live as he was locked up during the entire career of Ali, yet still was inspired by and admired Muhammad and often stated that Ali was a hero of his and a symbol for hope. Once released from prison the two men got to meet and their mutual love and respect for one and other was solidified. A friendship emerged that would last through the remainder of Mandela's lifetime.
Boxing remained an important part of Mandela's life, he often wrote about boxing as not only a metaphor but as a sport itself. After attending the Heavyweight Championship fight in South Africa where Lennox Lewis was upset by the knockout power of Hasim Rahman, Mandela told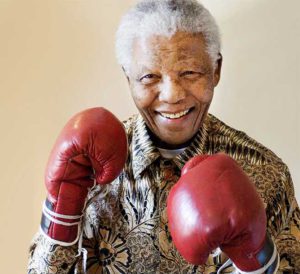 reporters what Lewis would have to do different in a rematch to win (which of course he did). He also maintained a friendship with Jacob "Baby Jake" Matlala, a South African Flyweight who is on record as the shortest World Champion of all time at 4' 10. Matlala even presented Mandela with his WBU title belt. Fittingly, a statue of Mandela in Johannesburg entitled "Shadow Boxer" is a 6 meter (or over 19 feet!) monument to Nelson Mandela the man and the fighter.
I think it only fitting to end this article with a quote by Muhammad Ali. This is the statement Ali issued when Mandela passed away. "What I will remember most about Mr. Mandela is that he was a man whose heart, soul and spirit could not be contained or restrained by racial and economic injustices, metal bars or the burden of hate and revenge. He taught us forgiveness on a grand scale. He inspired others to reach for what appeared to be impossible and moved them to break through the barriers that held them hostage mentally, physically, socially and economically. He made us realize, we are our brother's keeper and that our brothers come in all colors."
Remember to submit your questions/comments to me via the form box below by selecting Brian "The Beret" Young and follow me on Twitter @BoxingGuyBrian
Contact the Feature Writers