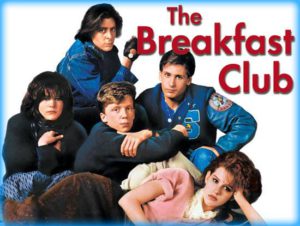 By Geoffrey Huchel
When I think back to all the movies that were a part of my youth, I immediately think about this one before any other. Who would've known a movie about a group of teens stuck in Saturday detention would become the pop culture phenomenon it is today? It's all thanks to John Hughes, the genius responsible for writing, producing and directing one of the most popular movies of all time, and more than 30 years since its release, it still manages to find a new audience.
In THE BREAKFAST CLUB, five students, each from a different social group, report for all day detention. Athlete Andrew Clark (Emilio Estevez), geek Brian Johnson (Anthony Michael Hall), pampered Claire Standish (Molly Ringwald), outcast Allison Reynolds (Ally Sheedy) and delinquent John Bender (Judd Nelson), gather in the library, where grouchy Principal Vernon (Paul Gleason), instructs them to not to talk, leave their seats or sleep until they are dismissed.
The group spends a majority of their day banning together against Vernon, who could be considered the villain of this film, even though he makes several attempts to paint Bender that way with threats and by constantly putting him down in front of the others, causing Bender to act out. Vernon assigns them each a thousand word essay asking them to describe "Who do you think you are?" He returns occasionally, only to check on them, and to deal with Bender, who constantly instigates the situation.
When they first arrive at school the students make it clear through their body language and facial expressions that none of them want anything to do with one another. Bender ignores the rules set by Vernon, and antagonizes the other students, teasing and harassing them. After some time spent arguing back and forth, they gradually begin to open up to each other about their own problems and struggles including peer pressure and abuse, and through these instances we see how affected they are by their circumstances. There's a great moment toward the end of the movie when the group is seated on the floor engaged in a tense and heated discussion. During this exchange they disclose the reasons why they are there. As reluctant as they are to reveal these very personal things about themselves, they find solace in their peers, realizing that despite their differences, they face similar problems and they don't have to go through them alone.
By the end of the movie, the students, who didn't know each other, leave with a bond, as they were brought together in a rather unique situation. Claire gives Allison a makeover, which sparks romantic interest for Andrew. Claire and Bender, who spent a majority of the movie loathing each other, give in to their romantic feelings. The group asks Brian complete the essay for everyone. As they part ways, Allison and Andrew kiss, as do Claire and Bender. Claire gives Bender one of her earrings. Principal Vernon reads the essay, in which Brian states that Vernon already judged who they are using stereotypes. Brian, speaking through voiceover, says: "Dear Mr. Vernon, we accept the fact that we had to sacrifice a whole Saturday in detention for whatever it is we did wrong, but we think you're crazy for making us write an essay telling you who we think we are. You see us as you want to see us, in the simplest terms, in the most convenient definitions. But what we found out is that each one if us is a brain, and an athlete, and a basket case, a princess, and a criminal. Does that answer your question? Sincerely yours, The Breakfast Club.
THE BREAKFAST CLUB is known as the quintessential 80s film. Each of the young stars went on to build successful careers in feature films and television. In 2005, at the MTV Movie Awards, it received the Silver Bucket of Excellence Award in honor if its 20th Anniversary. Some members of the cast including Molly Ringwald, Ally Sheedy and Anthony Michael Hall appeared together on stage to accept, which was presented by Paul Gleason. In 2015, for the 30th Anniversary, the film was re-released for a limited run in theatres across the country, accompanied with a special behind the scenes vignette. I attended one of those screenings, and it was very surreal to see it on the big screen for the first time.
With the resurgence of remakes today, I wouldn't be surprised if there was ever a thought or an idea about remaking this film, but I strongly feel THE BREAKFAST CLUB is a movie that cannot and should not ever be remade. And I'm sure I can speak for the many fans who adore it as much as I do.
Contact the Feature Writers