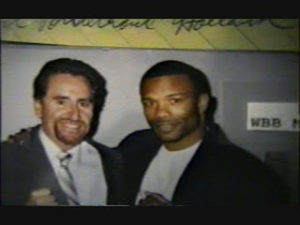 By Daniel Sisneros
Eric Holland was originally from Philadelphia, PA but fought much of his career out of Alamogordo, NM. After going 3-1 in the amateurs, he turned pro on Feb. 26, 1986 and stepped into the ring to face Chris Eubank, losing a 4 round decision to the man that would go on to become a legendary World Champion.
His career got off to a rocky start going 1-6-2 in his first 9 pro bouts. He fought on, and became a fan favorite at the legendary Blue Horizon auditorium in Philadelphia. It was Nov. 17, 1992 when he took on and defeated undefeated contender William "The Hammer" Jones (19-0, 15 ko's). He then faced 2 world champions in a row – Julio Cesar Green, and Ronald "Winky" Wright, dropping decisions to both of them. Next he went on a 7 fight win streak which included a big win over undefeated Scotty "The Body" Smith (22-0-1, 14 ko's), and a convincing 9th round tko win over William "The Hammer" Jones in their rematch. The winning streak was halted when he lost a razor thin but unanimous decision on scores of 94-96, 94-96, and 95-96 to world ranked contender Curtis Summit.
On Nov. 9, 1996 Holland fought for and won his first title belt with a 12 round decision victory over Jose Cataneo for the vacant WBB Middleweight Title. But it was his first defense of that belt that caused a buzz in the boxing world as Holland defeated former world champion Lupe Aquino by unanimous decision in Hollywood, California. World Champions Gerrie Coetzee and Carlos Palomino fought on the undercard of that title defense. Eric lost his title belt in his 2nd title defense with a split decision loss to Jose "Shibata" Flores in Ruidoso, NM. He got the chance to fight for the IBA Jr. Middleweight Title but lost a decision to champion Bronco McKart.
He continued campaigning in the middleweight and Jr. middleweight divisions, going 2-15 in his last 17 bouts facing contenders and world champions in that stretch including: Quirino Garcia, Merqui Sosa, Julio Garcia (twice), Lonnie Bradley, and Rodney Jones. Eric's last pro bout came on June, 21 2003 where he dropped a 6 round decision to then undefeated super-middleweight Jason Bray. Eric was always a fan favorite, lacking 1 punch knockout power, he made the most of his fearless style and world class heart. He ended his pro career with a record of: 22-33-3, 4 ko's.
Purchase Dan's Hit Boxing Book Mat Tales: True Stories From The Bizarre, Brutal World Of Pro Boxing by Clicking the Image to ORDER it Now.