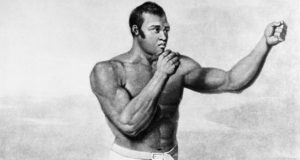 By Brian "The Beret" Young
As we continue to honor Black History Month here in the United States and Canada I wanted to do a feature on a man who has slipped through the cracks of history to the modern fan. A man of great pride and courage who was born during a very dark period of American history, the era of slavery. A man who was granted his freedom in part because of his sporting prowess and went on to become a hero on both sides of the Atlantic. My country's first African American boxing hero, Tom Molineaux.
What we know about Molineaux's early life is a mix of fact and legend, and most historians can't agree to which is which. The one fact everyone agrees on is he was born in 1784. At this point it gets a bit tricky. The most common story is Molineaux was born into slavery in Virginia and was taught the art of bare-knuckle boxing by either his father, or the son of his rich plantation owner.
In this version, Molineaux would fight other slaves for the entertainment and gambling thrills of slave owners. Molineaux won a fight that his master won $100,000 on, in return he gave Molineaux $500 and his freedom. Other sources claim that his master was Thomas Pinckney, the diplomat and statesman who had become the American Ambassador in London, and he sent for Molineaux to join him as they were very good friends.
Still other sources, written during his life time described him as "A Baltimore man of color" (The Sporting news) and yet another as "a native of the state of New York" (Pancratia). Still other sources don't even mention that he was a slave, for example in Boxiana 1812 writer Pierce Egan never mentions Molineaux being a slave but described him as "arrived in England descended from a warlike hero". The problem may be Molineaux himself. It was common at the time for men to tell tall tales about themselves when abroad, and it is very possible that Molineaux told different stories to different people through his career. So we will just stick to what facts we do know.
Tom Molineaux arrived in Liverpool England in 1809, and by 1810 in London with the hopes of earning fame and fortune as a fighter. He was proceeded by another former slave, Bill Richmond, who had been in England since 1777. At this time Molineaux became the protégé of Richmond. It is here where we can start to tell the story of what made Tom Molineaux a boxing hero. Trained by Bill Richmond, Molineaux had his first recorded fight July 24, 1810 at Tothill Fields, Westminster against Jack Burrows of Bristol, England. Burrows second for this fight was none other than British Heavyweight Champion Tom Cribb. Molineaux was victorious in 65 minutes. Bare-knuckle rules were quite different from Queensbury rules, or modern rules. A round lasted until a man was knocked down, and the fight ended when a man was knocked out or one or both men could not continue. Molineaux's next contest was one month later, August 21st 1810 against Tom Blake, known as "Tom Tough", this time it took only 8 rounds for Molineaux to score a knockout. By now, after only two fights, Molineaux was starting to earn a reputation in England as a world class pugilist. So much so that he was given a shot at the English title in his very next fight.
Tom Cribb is a legend in the annals of bare-knuckle boxing. A man whose name is as well known to bare-knuckle historians as that of John L Sullivan. Cribb is considered the very first Heavyweight Champion of the World (not just of his country). Cribb was champ from 1809 thru 1822 and retired with only one loss, that in his first year as a professional fighter. Cribb had once defeated Molineaux's trainer and mentor Bill Richmond and now set his sights on the pupil. The fight took place December 10th 1810 at Shenington Hollow in Oxfordshire. Even with his new found reputation, most people felt that the former slave had no chance against the great champion and that the fight would be quick and painful for Molineaux.
Not only was Molineaux a worthy foe, there is some debate as to if he indeed won the fight. For 19 rounds the men engaged in what was reported to be a great test of power and skill. Pierce Egan, who was at ringside, reported that "the two battered each other heavily". In that 19th round the combatants were locked in a wrestling hold (also legal under the rules of the day) and the referee was frozen and did not know what to do to break the two men up. The crowd became restless and pushed into the ring to take matters into their own hands. During this "intervention" Molineaux had his hand injured (some reports that it was actually broken by the crowd).
It is here that Molineaux may have actually been robbed of the title. Once order was restored, by the rules, the fighters had 30 second to return to the line in the center of the ring to continue. Most reports claim Cribb failed to do so in the allotted time, which would have awarded the fight to the challenger. However, with the confusion, the referee failed to count and allowed the contest to continue. The fight went on for 16 more rounds before Molineaux was defeated in the 35th round. Molineaux may have lost the fight, but he earned the respect and admiration of the crowd, and the sporting world as a whole.
After a 21 round victory against 22-year-old William Rimmer on May 21st 1811 Tom Molineaux was given a return bout with the champion. Cribb was not going to take his foe lightly this time and trained harder than he ever had. The Champion managed to break Molineaux's jaw with a vicious punch and knocked the game challenger out in the 11th round.
Tom Molineaux continued fighting and putting on boxing exhibitions until 1815, going 3-1 in that time in recorded fights before officially retiring. It is reported that he continued to tour Scotland and Ireland putting on boxing exhibitions thru 1817 but he was never again at the level he was when he was a confused referee's decision from being the first African American World Heavyweight Champion.
Sadly, Molineaux died penniless at the age of 34. But in those 34 years, this courageous man earned the respect and admiration of sporting fans around the world. An etching of Tom Molineaux still hangs in the National Portrait Gallery in London, England, and he was inducted into the International Boxing Hall of Fame. Perhaps someday his home country will honor him with a statue or memorial, but until that time, I will do what I can to keep the name of Tom Molineaux alive and relevant.
I want to know what you think friends, and watch this column for more tributes to Black History month including some quest writers with their thoughts and words.
Remember to submit your questions/comments to me via the form box below by selecting Brian "The Beret" Young and follow me on Twitter @BoxingGuyBrian
Contact the Feature Writers