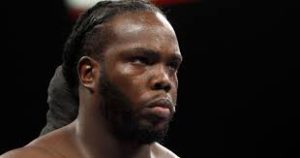 By Vinny "Glory Days" Lucci
Sometimes fighters part ways in the ring like two ships passing in the night. Recently English heavyweight Joe Joyce steamed forward closer to securing a title match this year as he left Haitian born Bermane Stiverne rudderless and sinking in his wake.
The fight was held in Joyce's backyard of London England where it was hosted at the O2 Arena in North Greenwich. The match up turned out to be a non-event as Stiverne typically once again showed up terribly out of shape with delusions of grandeur.
The fight itself was a one sided affair which ended by TKO in the sixth at the 2:20 mark. While Bermane did occasionally let his hands go with bad intentions they were more of the desperation variety to keep his pursuer off him than the calibrated combinations that flow from training camp diligence. Perhaps Stiverne deluded himself into believing he could win this fight on memory as his opponent who is quickly establishing himself could technically still be considered a novice. If so, it was a bad night for assumptions as Joyce stepped up his own level of expertise while raising his record to 8-0, 8 KO's. The heavy volume of unanswered punches forced the hand of referee Howard Foster to call a halt the futile one sided contest.
The embarrassing loss left the forty year old Stiverne's record at 25-4-1, 21 KO's and zero prospects other than being a stepping stone for any young contender looking to make a name for himself. Having weighed in at an unsightly 273 pounds it was abundantly clear that Bermane lacks the focus and drive to respect his own career and should no longer appear on any alphabet organization's top ten.
Known as "B Ware" Stiverne needs to take heed of his own moniker and seriously consider hanging up the gloves for good. His one moment in the sun was fleeting at best back in 2014 when he won vacant WBC title against Chris Arreola by sixth round TKO. Considering the fact the Arreola was another contender who lacked the ambition to ever get his body in pristine fighting shape and relayed more on being a tough hombre it's no wonder either had no longevity when presented the golden opportunity at top of division. Bermane lost title by UD to Deontay Wilder in his first defense the following year.
While Wilder won every single round, Stiverne did manage to break up his perfect 32 knockouts win streak. In 2017, the WBC inexplicably mandated Stiverne to challenge Wilder as his number one mandatory contender. Deontay making the sixth defense of his title destroyed Stiverne by knockout in the first round silencing his own critics who questioned how he allowed the challenger to hear the scorecards read in their first encounter.
Meanwhile Joyce who is 33 and known as the "Juggernaut" has a promising future ahead but can't afford missteps in his rapid ascendance up the heavyweight rankings. He has been promised a feature undercard bout on Deontay Wilder's next title defense in late spring.
At 6'6" with an impressive wingspan of 80" and a tireless offense Joyce is a fighter to keep your eye on.
Stay tuned…
Contact the Feature Writers