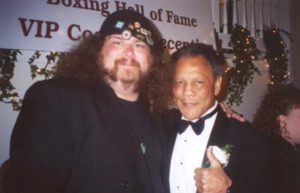 By Brian "The Beret" Young (Who else would it be by?)
Welcome back fight fans to another edition of my monthly Q&A article. Please allow me to begin by saying thank you for all the kind emails and social media messages I received regarding my month long honoring of Black History Month. They meant a lot to me and I am glad I was able to share some of the more historical articles, such as on Tom Molineaux and George Dixon. To Jim Bandy, your email telling me you were sharing the article with your daughter, a teacher, so she can share it with her students and help them to learn was very touching to me. It's comments like yours that make being a historian worthwhile. Again, THANK YOU. And now on to the questions!
A Ringside Report reader who didn't leave a name sent an email in regarding the George Dixon article but also asked "Were you ever a pugilist?"
The answer to that is yes, I have had the gloves on and taken the punches, I never fought as a pro, but I have been in the ring and have the nose to prove it.
Rex via Twitter asks: "How do you think Floyd Mayweather would have done against Aaron Pryor"
Well Rex, first off I am assuming you mean Aaron Pryor, SR. and Floyd Mayweather, JR. That is a very good question and not an easy one to answer. I think Mayweather, JR. is one of the best defensive fighters we have ever seen (but I still say Pernell Whitaker was better) and "The Hawk" was a beast. You have to remember, he was 35-0, 32 KO's before his first loss (after a 2-year layoff and personal struggles). So, I see the fight this way. Pryor comes out strong in the first and possibly even catches Mayweather, JR. and hurts him. Floyd would then do what Floyd did so well, he would move and use angles and that shoulder roll to confuse and frustrate Pryor. This would work for several rounds but not for the whole fight. "The Hawk" would never give up and would hunt down his prey. I feel he would eventually catch the crafty Mayweather, JR and punish him to both the head and body. Floyd would be game, but I see Pryor scoring a late round TKO. Again, this is nothing against Floyd, but more about how great Aaron Pryor was.
Dan also via Twitter asks: "Why do you think MMA is bigger than boxing now?"
Ok Dan, first off, it's not. It may seem like it is because it gets more attention here in America than boxing does, but the biggest money is still in boxing. That, and around the world, boxing dwarfs MMA in popularity. However, I know what you are asking. And the answer, in my opinion, is two things. 1- MMA matches are faster and shorter (in general) than boxing matches. We now live in an age of instant gratification; people don't want to invest too much attention to one contest. Get it started, get it over. Boxing can be a long drawn out event, very slow at times, where MMA is almost instant action from the moment it begins. And 2- Marketing, marketing, marketing. MMA has been BRILLIANT in showcasing its stars and getting national exposure in all forms of media. This is something boxing was once great at but lost its way sometime in the early 1990's.
Boxing decided to only market to its fan base and henceforth was failing to bring in new fans, unless they were 2nd or 3rd generation fans. Thankfully, our beloved boxing is starting to get back on the marketing bandwagon, making fighters household names once again. For better or worse, Floyd Mayweather, JR. has been a big part of that but boxing is making a comeback even in the USA and I predict that it will not only rival but soon surpass MMA in its popularity once again.
Allison via Facebook asks: "Why are there so many titles in boxing?"
Thanks Allison, I will try to answer, but remember, this is just my opinion. The simple answer is greed. You see ever boxing organization that crowns a champion gets paid "sanctioning fees" each and every title fight, so it's about money. As you know there are several "titles" recognized today, The WBA, WBC, IBF, and WBO are the primary ones. But don't forget the IBU, WBU, IBO and on and on. And in the WBA for example they have a "Regular Champ" and a Super Champ". The WBC has a World Champ, a Silver Champ and even a "Diamond" Champ, so it's really just about sanctioning fees. That being said, as much as I personally hate the "fractured" titles, there is one positive though. Being a World Champion gets a fighter a higher purse, so the more "Champs" the more fighters making more money.
And finally, Alberto via Email asks: "Who do you like in the Mikey Garcia Vs Errol Spence, JR. fight?"
Oh boy Alberto, can you ask me that again on March 17th? But seriously, this is about as much as a pick em fight that there can be. If you were to ask me a few months ago "Who has the best chance of beating Mikey Garcia?" I would have said Spence, JR.., and vice versa. Errol Spence, JR. goes to the body like nobody in the game today and is an absolute boxing machine, he does everything so well.
Mikey Garcia is as naturally gifted a fighter you can get. He is also as determined a fighter as I can recall ever seeing. Garcia is coming up in weight, but I don't think that is as big a factor as others seem to. Garcia has the build to put the weight on naturally and will probably even improve his power at the higher weight. Spence, JR. has been waiting for a challenge like this to prove his greatness and I am willing to be will be in the best shape of his life. So, who is the winner? I am. That is the weekend of my birthday and I can't think of a better birthday gift. Ok, I know I can't get off that easy so I will go out on a limb and say I am picking Mikey Garcia by split decision in what could be a classic fight for the ages and will probably only be chapter 1 in their story.
Thank you for the questions and comments and please keep them coming for next month's Q&A with "The Beret"
Remember to submit your questions/comments to me via the form box below by selecting Brian "The Beret" Young and follow me on Twitter @BoxingGuyBrian
Contact the Feature Writers