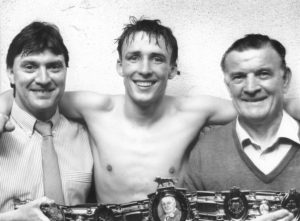 By Donald "Braveheart" Stewart
Wales has sent us many who have become eponymously named Welsh Wizards. In recent times it even gave us – though briefly – the Welsh Mayweather, in Lee Selby, as it is a country born of hardship and hard lessons in life which are given out at the nursery school door.
From the Valleys we have some fantastic boxers over the years from Gavin Rees, Enzo Macaranelli, Johnny Owen right through to the man who remains the one unbeaten champion in British boxing history – Mr. Joe Calzaghe.
Under the shadow of greats though it can be hard to flourish and for a while young Floyd Havard, 34-2, 21 KO's, managed to so do, flying close to an IBF son that was to diminish but not extinguish his career.
A super featherweight, born in 1965, he was professional from 1985 to 1996. His highlights included twice being the British super featherweight champion from 1988 to 1989 and then from 1994 to 1996 and in 1994, being in the ring for the IBF title against John John Molina; it was a title fight he was to lose.
Havard was an outstanding fighter from Wales who for a time managed to gather enough about him to get a world title fight. It was, however, the level above where he was best placed to win.
It began so well and promised so much as his professional career came after a highly successfully amateur one where he nearly made it to the pinnacle of the amateur code – the Olympics. That honor in 1984 at his weight category went to Kevin Taylor instead – but Harvard won the national championships in 1985 whilst Taylor got to the 3rd round at the Olympics and fought twice unsuccessfully for the British title at the end of his career.
His first 18 fights professionally were wins for Havard and he managed to get himself into the contender's corner for the British title. He was facing champion Pat Cowdell who was a former European champion. This was a man who had faced the best – Salvador Sanchez and Azumah Nelson. He may have been 35 years of age when he defended against Havard, but Cowdell was a formidable champion.
Scheduled for a full 12 rounds in Port Talbot, Wales – to be Havard's first 12 round scheduled fight – it did not get past the 8th with Havard stopping the more experienced man and being held aloft with the belt.
Havard called it later "…the best night of my career."
In those days the British title was the beginning of the road towards a bigger and international recognition– usually the European followed by the world title. Havard though was to lose his British title three fights later against John Doherty. Desperately unlucky, Havard was winning the fight before he broke his hand in the 11th and in agony, was forced to retire.
He took 18 months recovery time before in March 1991 he returned to take on Tony Foster. Havard had to win after being knocked down in the first round but it led to him beginning a rebuilding programme that led, in 1994, to the IBF title shot.
Facing John John Molina was no picnic. In sparring a fortnight beforehand, Havard had broken his nose. Havard should have pulled out as mentally he was in no fit state to get in the ring, but he did get in it. Meeting at the hardly Hollywood, Welsh Institute of Sport cuts forced Havard's retirement in 6th. Havard had been dropped in the 3rd and never won a round. Though he had got his shot, he had not managed to get beyond the contender tag.
Unlike his previous defeat he only took 2 months out of action before he was back on the comeback trail again. This time in his sights, was his old British title. In 1994 he faced fellow Welshman, Neil Haddock, and Havard managed to stop Haddock in the 10th and get that belt back.
Havard defended it twice more in a seven fight undefeated run that brought an end to his professional career; but it was not the end to his time in boxing.
He reportedly got involved in security – notably for The Spice Girls and Take That before launching himself as a boxing agent. He spent many hours in the Ukraine, apparently, trying to spot talent before realising his biggest talent may have been in his fists. In 2009 he went back in the ring, semi-professionally, to win another title – the Empire Boxing Federation British Light welterweight title!
He may have been one of only 4 Welsh boxers to have won the super featherweight British title but he was one who kept the rest of the UK entertained and enthralled in his journey.
Contact the Feature Writers