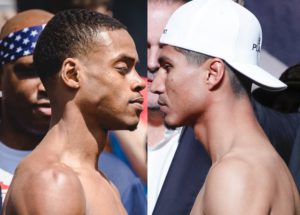 By Rich "Lite It Up" Lopez
This weekend we look forward to one of the biggest fights of the year. It's the big showdown between IBF World Welterweight Champion Errol Spence, JR. and current WBC World Lightweight Champion Mikey Garcia. Mikey Garcia is moving up in weight to challenge the bigger Spence which is a gutsy move by Garcia. This has been the result of Spence being avoided by some of the top welterweights in the division and Garcia not landing a lightweight mega fight with Vasyl Lomachenko. The fight is a matchup of a good smaller fighter (Garcia) Vs a good bigger fighter (Spence). Looking back at boxing history, the bigger guy usually beats the smaller guy. When the fight was announced, most observers believed the fight was a mismatch and see Spence winning by stoppage.
As the fight nears, some observers now think that Garcia has a chance to win or will do better than some people expect. Here is why.
Mikey Garcia is one of the best technical fighters out there today and has been a solid pro for almost 13 years now. He has far more experience than Spence and has fought better competition than Spence. Also not to discredit any fighter for winning titles in multiple weight classes, but in the last 20 years or so, it's been a lot easier to do. With multiple world titles and the many divisions we have, a fighter has more opportunities to achieve this. As we look at what Spence has done in the welterweight division, it has been good, but as of now we are still not sure he is the best welterweight. He has not fought Manny Pacquiao, Terence Crawford, Keith Thurman, Danny Garcia, or Shawn Porter to test himself. So far the only big win against a solid welterweight was with Kell Brook.
Based on this, Garcia has a chance of winning the fight but he would have to fight the perfect fight come Saturday night.
Errol Spence, JR. has the speed, the power, and most importantly the size. Spence in reality is a huge welterweight to sum it up. Also another question that remains is: How will Mikey Garcia react to the punching power of Spence? That we don't know yet. Garcia's chances would have been better if he had a tune up fight at welterweight to give himself ready for the Spence fight. If you go back 19 years ago, Shane Mosley moved up from lightweight to welterweight and defeated Oscar De la Hoya, but Mosley fought two lesser opponents at welterweight to get prepared. About 39 years ago, Roberto Duran moved up from lightweight to welterweight to defeat Sugar Ray Leonard. Duran had five fights at welterweight to get ready for Leonard. With Garcia not taking any tune up fights at welterweight it will be more of a difficult task.
If Errol Spence, JR. (-375) fights his fight, he shouldn't have too much trouble beating Mikey Garcia (+285), He is the big favorite according to many betting sites for US players we've checked on the list held by SBD, which are reliable sources as they've been reviewed by many experts and bettors. There's no denying that Garcia will be the best technical boxer Spence, JR. has ever faced, but Spence, JR. is also a top-ten pound-for-pound fighter and will hold a sizable advantage in height (5'9 Vs 5'6), reach (72″ Vs 68″), and power.
So once again Garcia has a shot to win the fight and I believe he would make it to distance against Spence but lose to a decision. If Garcia pulls the upset, he will win a title in a fifth weight class and become the second fighter to win titles at featherweight and welterweight. The other fighter that did this was Manny Pacquiao. Pacquiao won the lineal featherweight title and later would become a world champion at welterweight.
Mikey Garcia has nothing to lose, but can he do it? We shall see.
Contact the Feature Writers