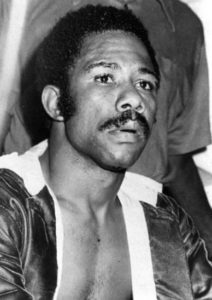 By Donald "Braveheart" Stewart
There are a few fighters whose reputation precedes them, whether they fight in the ring for your country or are coming across to fight your countryman and deny them a belt or a title. There are some you talk about with scant regard, highlighting the qualities and the strengths of your "man" whilst trying to down play the strengths and qualities of your "opponent".
Then there are the guys whose reputations, records and clear abilities are likely to strike fear and respect and the words "a tough ask" get quoted when talking of your "man's" chances.
In boxing respect should never be far away but when you have a fighter coming to your shores with the record of Eusebio Pedroza, 41-6-1, 25 KO's, you know that the "tough ask" looks near impossible.
Such was the trepidation with which we viewed Pedroza's arrival in the UK to defend his WBA featherweight title against our own Barry McGuigan. McGuigan had mythical status because of his fight, not only in the ring, but outside of it in a bitterly divided community. He was the man who could box for the South of Ireland, then for the North and be blamed by neither side for so doing. We had a lot of faith in McGuigan, so when Pedroza was on his way, the fact we thought, this would be tough is a measure of the respect that Pedroza commanded.
From 1978 to 1985 he had been the champion.
Starting with an 9 fight winning streak at the beginning of his professional boxing career, the Panamanian eventually ventured out of home turf in 1976 in 1976 when he was in Mexico to take on Alfonso Zamora, for the WBA title. Though he had tasted defeat in 1975 against Alfonso Perez he was a fighter whose destiny may have been set by the boxing Gods but they had yet to inform all of us that this was going to be his future status.
His first world title fight was not auspicious and he was stopped in the 2nd round, losing his first attempt to win a world title. His wait for another world title attempt, and the win that would begin an amazing run was not far away.
Having recorded his second loss, his third came in his very next fight but he was not to lose again for another 9 years; until he came to the UK to take on McGuigan.
In between he went on a world wide tour, defending in Japan, Italy, Puerto Rico, South Korea, Venezuela, the USA and Papua New Guinea. In February 1985 he made history – he defended his title, successfully, for a record 19th time.
1985, and I was one of the 19 million people, in a country of 50 million, that tuned in to watch Barry McGuigan end that run and beat Pedroza at Queen's Park Ranger's soccer ground, Loftus Road.
McGuigan fought ferociously for a unanimous points win that sent us into delirious rapture. It was not just that McGuigan had won the title, it was who he had beaten to do so.
Pedroza did not retire and up until 1992 he attempted a few comebacks. They never brought back any of the highs of his past and with a 3-2 win rate he ended with a record slightly tainted by the last few fights but there is nothing that could tarnish his overall contribution to the sport.
His final fight, to pancreatic cancer, was one that he was unable to win and losing it has brought a lot of plaudits and memories flooding, including my own, back. Losing his life just 1 day before his 63rd birthday is tragic but we all can relish the past and the way in which a true champion behaved and graced our sport.
McGuigan was quick to tweet after hearing the news, speaking for himself when he said of the International Boxing Hall of Famer, "A sad day for me as my rival and outstanding world featherweight champion Eusebio Pedroza passes away. It was a pleasure to share the ring with him."
It was an equal pleasure to think back, watch back and remember his legacy.
Contact the Feature Writers